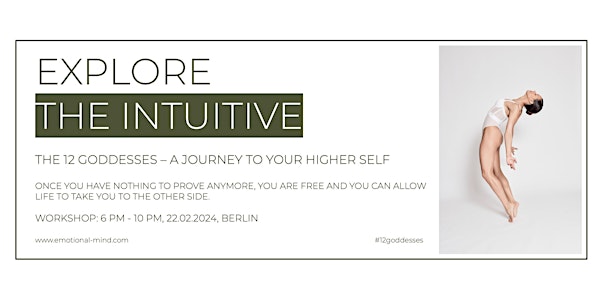 #12 - THE INTUITIVE - Come on a Journey with the 12 Goddesses
Join us for a wonderful, connecting and liberating journey to your divine feminine. You will laugh, cry, scream & dance - and you will grow!
Date and time
Thursday, February 22, 2024 · 6 - 10pm CET
Location
Urban Healing Unit Moosdorfstraße 7-9 12435 Berlin Germany
Refund Policy
Contact the organizer to request a refund.
About this event
WELCOME TO YOUR JOURNEY TO YOUR DIVINE FEMININE
With my program "12 Goddesses" I invite you on a journey through the power of your subconscious mysteries. Based on the twelve archetypes from analytical psychology and Greek mythology, we embark on a twelve-month journey into mysticism, the science of femininity - i.e. to yourself. Together we discover the mystery of your elemental power and leaf by leaf it will unfold the goddess in you.
In 12 months you will meet THE HEROINE, THE SENSUAL, THE NETWORKER, THE MOTHER, THE QUEEN, THE ORGANIZER, THE BEAUTY, THE DESTROYER, THE DEVOTION, THE SAGE, THE WITCH, THE INTUITIVE
We will turn to the respective goddess of the month, experience her, understand her, feel her and bring her to life. I will create a safe space for you where you can embody all these archetypes. I want you to feel free and curious to experiment and express these new facettes and aspects of you, so you can unfold your inner feminine power.
For more information about the full cycle please visit my website .
#12 THE INTUITIVE
In this workshop you will flow. In this last phase everything is redeemed. Knowledge, competition, existence or polarity are no longer of interest here. You let go of the mirror that still wants to show others the way. The intuitive doesn't need to tell others anything anymore. She cares, but she knows that life will be the better mirror. She is so connected with the material and the spiritual world and she dances on that shiny silverline where the two meet. Life, and people who struggle with life, sometimes seem absurd to her. The intuitive just wants you to flow and experience the process of dissolving, because it brings you in contact with the universe and the highest entity there is - GOD. The place from where everything comes and goes. She wants to remind you and to become this divine being floating through the world.
In this workshop I want to create a safe space for you so that you can explore this new side of yourself in a connected and loving surrounding. Here you can embody, explore and integrate this new facette and find other women who want to grow and empower themselves, just like you.
What you will learn & experience
higher spirituality (crown chakra opening)
flow state
sharing circles
bodywork
orgasmic breathwork
ancient wisdom
mythology
shamanic rituals
women circle
bodywork and embodiment
breathwork
trauma release
authentic contact and interaction
mantra singing
tea ceremony
To bring
warm socks
paper & pen to take notes
something comfortable to sit on (there are some blankets and cushions at UHU, but sometimes not enough)
water bottle
Extra notes
Of course I recommend you to go through the whole annual cycle, but you are also very welcome to join for a single or some specific workshops of your interest . If you are pregnant, take antidepressants, or have a severe heart condition please reach out to me in advance workshop@emotional-mind.comThe workshops are for women and anybody who identifies as a woman. We want to go together through the 12 steps of becoming a higher version of ourself. This journey is about healing, integration, self love and growth.
For more information please visit my website
About the organizer
Neuroscientist, alternative practitioner for psychotherapy, Hypnotherapist, Author, Coach