Dieses Event ist beendet.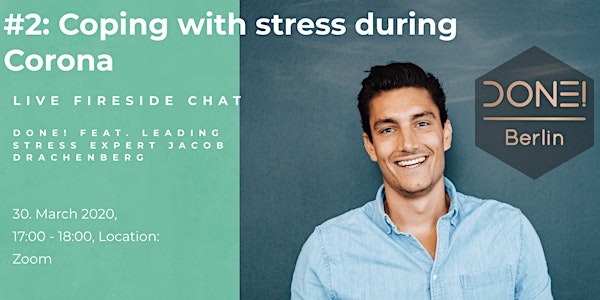 Virtual Round Table: Coping with (Corona-)stress
Beschreibung
Currently, our HR/people-departments as well as founder and entrepreneurs are doing a fantastic job. Not only the economic business needs to continue, also the (mental) health of the employee is an absolute priority. Jacob Drachenberg, one of the leading stress experts in Germany and founder of drachenberg.de, will be our guest.

Some people say, the main enemy these days is not the virus, but the fear. That´s why we´ve set up this RoundTable on 30th March from 5pm-6pm, because we want to show you (and your employees), you can be in control of things and we need a certain mindset to go through a (the) crisis. We want to share with you in our session, how you can cope best with the current stress and the stress and fears of your employees. You will get an introduction to understand what stress means and how you can use it - even during that times - in the most positive way.
Don´t make the mistake: We won´t sugar coat the current situation! This is not about any platitudes but about real methods from the field of psychology.
That´s why we´ve invited Jacob: He is one of the leading stress experts in Germany and is working with clients like i.e. Lufthansa, Deutsche Post, Scout24 as well as with startups and smaller companies. He is psychologist and was a competitive athlet for years. He exactly knows what stress mean and therefore specialized 100% onto this topic and will combine theory and practical training in one.
Cornelia from DONE!Berlin, a psychologist herself, will have the talk with Jacob and we are more than happy answering all your questions.
Don´t miss that out: Join our RoundTable on 30th March from 5pm-6pm and learn a lot how you can lead better through this times and sign up now. We will send you the Zoom-link the day the event is starting, so you are all set.
The participation of as always for free and we can´t wait to welcome you!
(The event will be in English. If you want to have any German consultation, pls reach out to Janet janet@doneberlin.com)