Dieses Event ist beendet.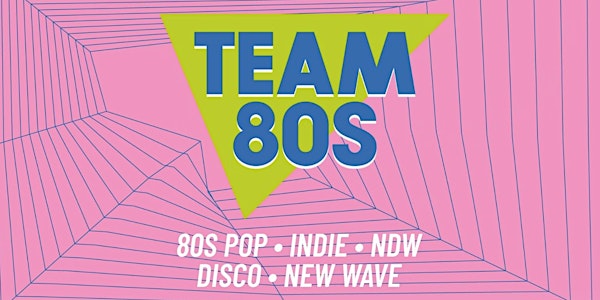 Team 80s • 80s Pop Disco • Astra Berlin
Back in Time mit 80s Pop, NDW, Disco und Postpunk der 80er Jahre
Zeit und Ort
Veranstaltungsort
Astra Kulturhaus Revaler Straße 99 10245 Berlin Germany
Karte und Wegbeschreibung
Rückerstattungsrichtlinie
Kontaktieren Sie den Veranstalter, um eine Rückerstattung anzufordern.
Zu diesem Event
Team 80s is going wild & back in time…
Sounds like:
Wham, Simple Minds, Joy Division, Kate Bush, Elton John, ABBA, Peter Schilling, Tears For Fears, Soft Cell, A-Ha, Kylie Minogue, The Clash, Journey, TOTO, Frankie Goes To Hollywood, The Cure, Depeche Mode, The Smiths, Iggy Pop, Kraftwerk, New Order, Duran Duran, Fleetwood Mac, Queen, the Human League, Kim Wilde, Genesis, Falco, Whitney Houston, Culture Club, The Police, David Bowie, Talk Talk, Billy Idol, Alphaville, Joachim Witt, Andreas Dorau, Donna Summer, Bonnie Tyler, Rick Astley, Kenny Loggins, Bruce Springsteen, Bronski Beat, Men At Work, Madonna, Blondie, Prince, OMD, Cindy Lauper, Womack & Womack &&&
Sa. 17.12.22 // 23Uhr
Astra Kulturhaus // Berlin
Eintritt: 10€ VVK // 13€ AK
Noch wärmer, noch lauter, noch wilder! Versprochen!
Back in Time mit 80s Pop, NDW, Disco und Postpunk der 80er Jahre.
Von poppigen Lieblingssongs bis wavigen Synth-Tracks ist alles dabei, was die Arme nach oben und kühle Drinks nach unten treibt.
Wer sicher drin sein will und dabei auch noch 3 Taler sparen will, holt sich das Ticket vorab.