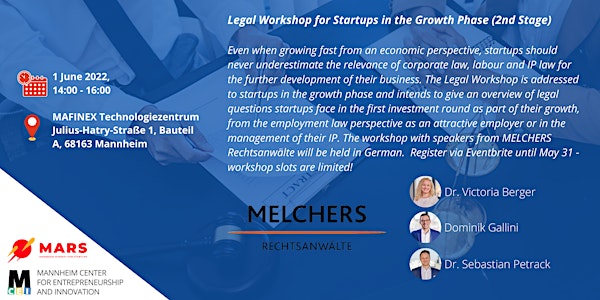 "Legal Workshop" for Startups in the Growth Phase (2nd Stage)
Veranstaltungsort
MAFINEX Technologiezentrum
Julius-Hatry-Straße 1
Bauteil A
68163 Mannheim
Germany
"Legal Workshop" for Startups in the growth phase (2nd Stage)
Zu diesem Event
Also in the growth phase of a startup, legal questions about corporate, labour and IP law pose major challenges for young entrepreneurs. The legal workshop will provide an overview of important topics from these areas of law that regularly become relevant for founders in the course of setting up their business and making it grow.
The workshop will be held by Dr. Victoria Berger (corporate law), Dominik Gallini (labour law) and Dr. Sebastian Petrack (IP), lawyers with law firm MELCHERS Rechtsanwälte Partnerschaftsgesellschaft mbB. MELCHERS is a full-service law firm with offices in Heidelberg, Frankfurt, Mannheim and Berlin and advises national and international clients on all commercial law issues. MELCHERS' areas of expertise also include advising startups, taking into account their specific environment.
Dr. Victoria Berger is a specialist lawyer for commercial and corporate law and will shed light on key provisions in the Investment Agreement (Beteiligungsvereinbarung) that are relevant for startups in the growth phase during the first investment round.
Dominik Gallini is a specialist lawyer for labour law and will give an overview on which questions primarily arise under labour law when setting up a company, for example with regard to the topics of employee participation, legally compliant job advertisements in the competition for the best talents or the cooperation with freelancers.
Dr. Sebastian Petrack specializes in IP and IT law. In the workshop, he will deal in particular with questions of IP strategies and management after a company was established.
The workshop will be held in German.
Title? 2nd Stage: Startups in the growth phase - Selected legal questions
When? Wednesday, 1 June 2022, 2:00 p.m. to 4:00 p.m.
Where? Konferenzraum Mafinex Bauteil A
Please register for the event via Eventbrite no later than 31 May 2022. The event is free and limited to 25 people.