Eventinformationen
Veranstaltungsort
Haus der Kulturen der Welt
John-Foster-Dulles-Allee 10
10557 Berlin
Germany
After the success of last year's sunset Kiezsalon on the rooftop terrace of the Haus der Kulturen der Welt, we are happy to return there.
Zu diesem Event
We return to the stunning Haus der Kulturen der Welt (HKW) in the middle of Tiergarten in September. As well as our Kiezsalon show here, we look forward to hosting concerts in July as part of this year's 21 Sunsets festival.
► We are happy to present British/American artist and musician, James Ginzburg, the St. Petersburg-born, evocative sound artist Perila, and the Berlin premiere of Venezuelan-born sound artist Molero.
→ Perila is a St. Petersburg-born, Berlin-based sound and visual artist, DJ and performer exploring sensitive borderlines and depths of subtle matter. She is a co-founder of radio.syg.ma, WET boss, and engaged in several other music projects such as Aseptic Stir. Her music is dense narratives drifting through a rich sound palette submerging a listener into a pretty personal trip. Constantly shifting moods and textures Perila creates comfort space for emotions to float, merge, evaporate and ride in a deep context. Her practice is aimed to challenge and overcome boundaries and share this expansion with the Other.
→ Berlin-based James Ginzburg is an artist and musician whose work has encompassed experimental electronic music and art production, folk music, film score and extensive dance music production. He is one half of Emptyset (Thrill Jockey, Raster-Noton and Subtext). Emptyset have produced works and installations for the David Roberts Art Foundation, Tate Britain and V&A Museum, and presented live performances with Unsound, CTM/Transmediale, Kunsthalle Zurich and Sonic Acts among others.
→Molero, a Venezuelan composer of electronic music based on analog synthesizers, has lived in Barcelona for some years. It is from Europe that he projects a fantasy that seeks to capture European visions of the ideal of the tropical. Such ideals were documented by romantic explorers who set out in search of "new worlds." Venturing through the South American rainforest exploring the unknown, evoking utopian worlds. Molero will perform 'Ficciones del Trópico', his exceptional conceptual debut album, which touches on themes of the western obsession with tropical exoticism.
Sometimes referred to by Berliners as "the Pregnant Oyster," the building is an impressive example of modernist architecture, and is home to Henry Moore's heaviest bronze sculpture, his final completed work.
Last season, our shows sold out quickly, so we recommend securing your tickets early to avoid disappointment. Do not buy second-hand tickets from strangers – there are scammers around. As part of our safety first policy, tickets are only available via Eventbrite. There is no box office or guest list. Due to the pandemic, changes may be made at short notice. In the event of any changes, we will inform you by E-Mail.
The Kiezsalon has offered a forum for innovative musical activity beyond genre boundaries. As an interface between avant-garde, advanced pop music and interdisciplinary art, the series presents compact shows of 30 minutes by artists of diverse genres, origin and status.
Please be aware that format of the event and venue arrangements have been adapted to maximize safety, and we have created a strict Kiezsalon hygiene and safety policy.
The Kiezsalon is a project by Digital in Berlin, curated by Michael Rosen and funded by Senate Department for Culture and Europe.
Photo © Kiezsalon 2020 by Roland Owsnitzki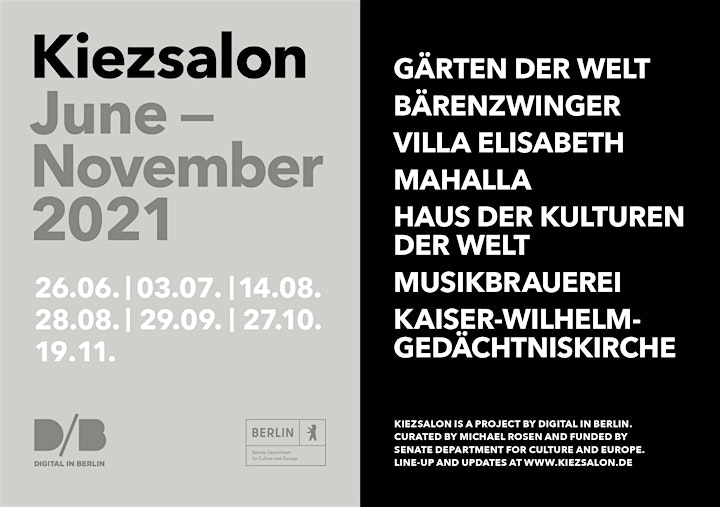 Datum und Uhrzeit
Veranstaltungsort
Haus der Kulturen der Welt
John-Foster-Dulles-Allee 10
10557 Berlin
Germany
Veranstalter von Kiezsalon at Haus der Kulturen der Welt
Digital in Berlin is a curated platform for cultured music between avant-garde, pop culture and interdisciplinary arts. For 12 years and with almost 5000 announcements, we have been Berlin's musical archive, reflecting the diversity of the scene. D/B supports, advises and develops collaborative cultural offerings, creates visibility for sectoral and cross-sectoral events and helps to make better economic use of cultural and artistic potential. As a media partner, we support selected concerts, festivals and series.
Since 2010 we programming concerts in many places in Berlin. Since 2015 mainly under the name Kiezsalon at the historical Schneider brewery. Following six exciting years, the Kiezsalon has established itself as one of the most popular and successful series in Berlin, so far hosting more than 130 acts from 35 countries.