Dieses Event ist beendet.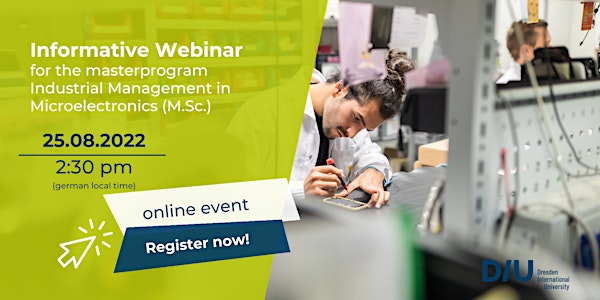 Informative Webinar: Industrial Management in Microelectronics (M.Sc.)
We are pleased to invite you to this prospective student meeting for the international IMMprogram.
Zu diesem Event
You can expect a relaxed coffee talk vibe with program manager Laura Byfut and Country Manager Premkumar Mohanan. If you take part, you can benefit from insider tips about studying at DIU, learn which careers alumni have taken after their studies and how they can apply their study experiences into their subsequent professional lives.
Afterwards, program manager Laura will give a general introduction to the program and answer your questions.
About the program: Students participating in this program will gain solid and fundamental knowledge in modern aspects of processor technology, packaging, microsystem and sensor technology as well as fundamental information on operations and logistics management and project management in semiconductor industry and related branches (see description of modules). Small study groups allow efficient and individual studying supported by intensive scientific care in theoretical and experimental exercises. Besides their scientific qualification the graduates will gain extended international and intercultural experience. Successful graduates of the program can start their career in different fields of the microelectronic industry, in companies dealing with microsystem and sensor technique and in all kinds of supply industries.