Dieses Event ist beendet.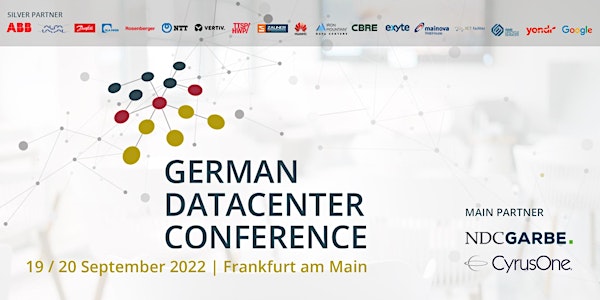 German Datacenter Conference 2022
The German Data Centre Conference is THE C-level event of the data centre industry in Germany.
Zeit und Ort
Veranstaltungsort
Depot 1899 Textorstraße 33 60594 Frankfurt am Main Germany
Karte und Wegbeschreibung
Rückerstattungsrichtlinie
Zu diesem Event
EVENT PROGRAMME
MONDAY, 19 SEPTEMBER: GENERAL ASSEMBLY & WELCOME RECEPTION
The event kicks off on 19 September at 3 pm with the general meeting followed by a drinks reception (from 6 pm), with plenty of space for initial discussions and networking.
CONFERENCE PROGRAMME
TUESDAY, 20 SEPTEMBER: GERMAN DATACENTER CONFERENCE
The morning programme of the German Datacenter Conference gives the audience a brief overview of the developments, challenges and opportunities of the near future. The afternoon programme offers in-depth presentations and plenty of room for exchange with other industry experts.
09:00 Uhr Entrance
10:00 Uhr Welcome by the GDA Executive Board
10:10 Uhr Outlook: German Datacenter market
10:30 Uhr CEO panel discussion, including Q&A
11:10 Uhr Keynote
11:40 Uhr Panel discussion
12:00 Uhr Panel discussion
Ab 13 Uhr 💡 Various expert lectures and panels on technical developments and strategy & business trends
17:00 Uhr Closing of the conference day
From 7 p.m. onwards, the Young Talent Award will be presented at a gala dinner in the same location. Please note that this ticket does not include the participation.
Tickets for the gala dinner can be purchased separately:
https://www.eventbrite.de/e/332794877437