Dieses Event ist beendet.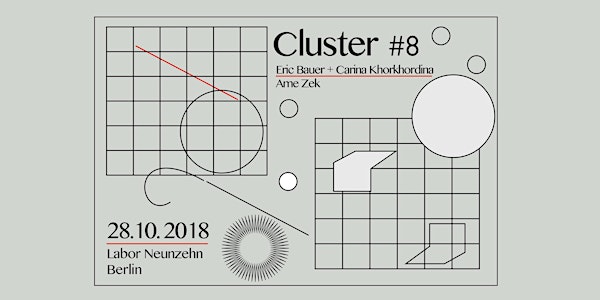 Cluster #8 w/ Eric Bauer, Carina Khorkhordina and Ame Zek
Datum und Uhrzeit
So., 28. Okt. 2018 17:30 - 21:00 CET
Veranstaltungsort
Labor Neunzehn Kiefholzstr.19/20 2.HF 4.OG Raum 11/12 12435 Berlin Germany
Beschreibung
DATE: 28 October 2018 // DOORS: 17:30 // CONCERT: 18:00
CLUSTER #8
Labor Neunzehn is pleased to invite you to the opening concert of the 2018 Cluster series, with works for live electronics, trumpet and double neck lap steel guitar from the duo Eric Bauer & Carina Khorkhordina and the electroacoustic musician, guitar player, and composer Ame Zek (world premiere). An electroacoustic journey in both the vertical and the horizontal dimensions of listening, in-between active silence and microtonal magnetic resonances, this concert programme has been co-curated by Jack Adler-McKean.
Eric Bauer & Carina Khorkhordina (electronics, objects, trumpet)
Ame Zek (new work for double neck lap steel prepared guitar, 6 E-bows and microphone) - Premiere
This concert is kindly supported by Dezentrale Kulturarbeit Berlin-Treptow.


FREE ENTRANCE but registration required
"Cluster" is a music series devoted to sound investigation with a particular focus on contemporary languages, new music and extended techniques. "Cluster" supports the collaborative work and aims to offer an exchange platform for musicians, composers and electronic music performers in Berlin-Treptow.
////////////////////////////////////////////////////
MORE INFO:
www.laborneunzehn.org
https://vimeo.com/clusterseries
FB EVENT: https://www.facebook.com/events/1958109764245454
////////////////////////////////////////////////////
ABOUT THE ARTISTS
Ame Zek
Ame Zek is an electroacoustic musician, guitar player, and composer. Instruments, sound sources and tools used in his music creations vary from different types of prepared guitars, acoustic prepared percussions, self made objects, contact microphones,analog modular synthesizer, amplified feedback speakers, magnetic field microphones , digital midi machines and objects. In continuous research,use and exposure of micro tonalities ,micro noises,feedback and overtones relations of the sonic material Ame Zek's main interest and occupation is and remain ''sound'' with its unique sonic characteristics.Driven by dissonances and resonances his music world gradually becomes organic dimension.Being constantly on the way of looking for new approaching and developing of his own technics and strategies of music making, he lives and works in Berlin.
He is an initiator and funder of the Reanimation orchestra
https://reanimationorchestra.wixsite.com/reanimation/about
http://amezek.com
Carina Khorkhordina

(1991, Kaliningrad, Russia) is an artist and a trumpet player living in Berlin since 2014. Through her work with photography, sound, and improvisation in music and other fields she's recently been focusing on bringing together different disciplines, people and methods to create a situation of exchange, collaboration and feedback. Since 2016 she is a student of various programs at FotoDepartament Institute in St. Petersburg, Russia. Part of Attention Hub, FotoDepartament's initiative representing "contemporary Russian photography in the expanded field". In 2017 started to play concerts and perform in the context of improvised and experimental music.
https://www.khorkhordina.org
Eric Bauer
(1989) is an autodidact musician, working with analog synthesizer and various other sources of sound, from elements of percussion to strings. Although the recent focus of his work is on methods of Improvisation, aspects of Composition are not left aside. At the moment he is working on a score for a documentary essay by Mikko Linnemann, ad hoc and longtime collaborations like the duo with Carina Khorkhordina and a release of solo rhodes piano recordings, soon to be out via tmrw> label on tape.
https://ericbbauer.wordpress.com

Über den Veranstalter
Labor Neunzehn is a small atelier room located at the 4th floor of the former DDR Bauakademie in Berlin-Treptow. Besides the regular use for work purposes, the atelier is employed on an irregular basis as an independent curatorial platform and a non-profit space for the production and presentation of artistic projects, exhibitions, workshops, concerts and collaborative critical research work.