Dieses Event ist beendet.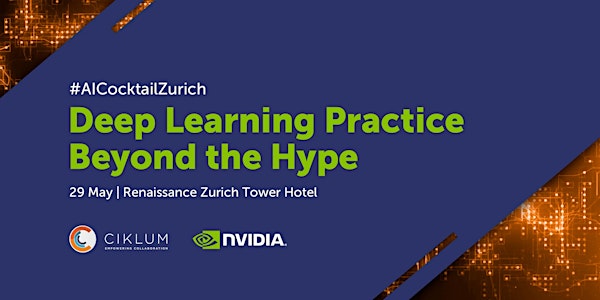 AI Cocktail Zurich: Deep Learning Practice Beyond the Hype, Ciklum & NVIDIA
Zeit und Ort
Veranstaltungsort
Renaissance Zurich Tower Hotel Turbinenstrasse 20 Room Bavaria, 1st Floor 8005 Zürich Switzerland
Karte und Wegbeschreibung
Beschreibung
2017 has been called "The Year of Artificial Intelligence" (AI) by media around the world. Groundbreaking advances are happening across a variety of AI applications, specifically Deep Learning - including image classification, video analytics, speech recognition and natural language processing.
AI with Deep Learning is fueled by GPU-based platforms, which enable a new generation of high-performance, low-energy embedded systems. These platforms can be used by everybody who understands their underlying technology and principles. While global players like Apple, Tesla, Google or IBM were at the forefront of adopting AI with Deep Learning - it's now ready to being explored by companies of all sizes, cross-industry.
Ciklum & NVIDIA will show you, how to apply the NVIDIA technology - which is also in use at the named companies above - and how your company can embrace it to realize own Artificial Intelligence projects. Our audience-tailored Deep Learning cases will give you real inspiration of what is possible beyond the hype.
NVIDIA, with their GPU technology, is market leader in hard- and software for accelerating and running modern Artificial Intelligence up to the edge devices. Ciklum's R&D Unit helps you to realize your AI projects with consulting and implementation support.
We look forward to a great evening of know-how sharing & expert networking.


AGENDA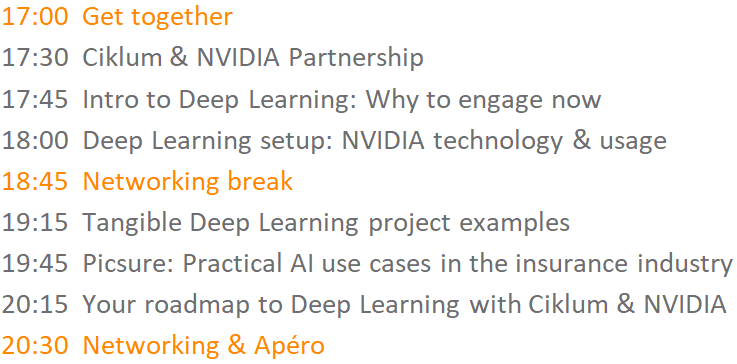 SPEAKERS

Ciklum & NVIDIA Partnership

Intro to Deep Learning: Why to engage now

Deep Learning setup: NVIDIA technology & usage


Tangible Deep Learning project examples

Practical AI use cases in the insurance industry