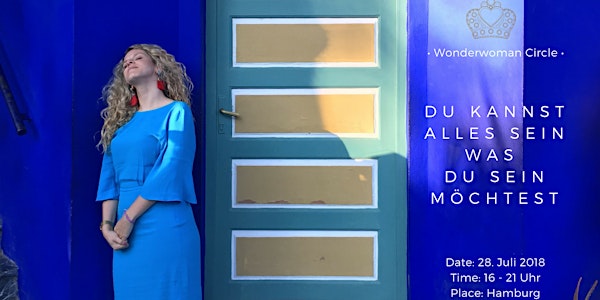 • Wonderwoman Circle • Du kannst alles sein, was du sein möchtest.
When and where
Location
Romantische Holzhütte Grüner Weg 15 22851 Norderstedt Germany
Refund Policy
Contact the organizer to request a refund.
Description
Du kannst alles sein, was du sein möchtest. Du willst erfahren wie? Dann ist dieser Wonderwoman Circle genau das Richtige für Dich!
Lass uns gemeinsam an diesem Abend nicht nur feststellen, welcher Mensch du sein und welches Leben du führen möchtest, sondern wie du es auch JETZT in der Realität kreieren kannst.
***NEU***
Der Wonderwoman Circle findet ab jetzt länger statt. Lass uns die Zeit nutzen, um noch tiefer in deine Themen einzutauchen.
The Circle of Wonderwomen ist ein Ort wo Frauen zusammenkommen, authentisch sein können und die Möglichkeit erhalten herauszufinden, wie sie ihre Potenziale besser ausschöpfen und in die Welt bringen können. Es wird einen geschützten Raum für Frauen angeboten, das ein Austausch auf einer persönlicheren Ebene ermöglicht
Wir brauchen mehr Wonderwomen auf dieser Welt! Und ich bin davon überzeugt, dass wir alle dieses Potenzial in uns tragen, jedoch es oft vergessen oder andere Menschen uns vom Gegenteil versuchen zu überzeugen.
The place where magic happens!
Inspiriere andere und lass dich inspirieren
* ein intensives Leben mit intensiven sozialen Beziehungen zu führen
* den Mut zu entwickeln, neue Wege im Leben zu gehen
* das Leben zu führen, dass du dir wünschst
Was ist ein Wonderwoman Circle?
The Circle of Wonderwomen ist eine außergewöhnlicher Workshop für Frauen, die nach etwas Bestimmten im Leben suchen. Dabei geht es darum, sich selbst ein bisschen näher zu kommen und endlich loszugehen, um das im Leben zu tun was man wirklich will. Weg von der von uns erwarteten Konformität, hin zu unserer ganz persönlichen und außergewöhnlichen Art zu leben.
Ich lade dich dazu ein dich gemeinsam mit mir und anderen Wonderwomen auf deine Reise zu begeben und dabei deine Wünsche und Bedürfnisse zu entdecken. Lass uns gemeinsam im Circle herausfinden, wie du dies für dich am besten umsetzen kannst und dir ein Leben gestaltest, das sich von ganzem Herzen nach einem Yeah-Life anfühlt.
Jeder Circle beschäftigt sich mit einer bestimmten Themenwelt. Jede Frau hat die Möglichkeit sich mit den anderen Frauen über ihre Gedanken, Sorgen oder Fragen auszutauschen. Die Veranstaltungen sollen dabei ganz im Zeichen von Herzlichkeit und Persönlichkeit stehen. Dabei sind die Veranstaltungen auf eine Teilnehmeranzahl von sieben Frauen begrenzt, um jeder Wonderwomen genug Raum und Platz zu lassen sich vollends einzubringen. Ziel ist es nicht nur die Möglichkeit zu haben mit anderen seine Gedanken und Sorgen teilen zu dürfen, sondern auch aus dem Erfahrungsschatz der anderen Frauen zu profitieren. Dabei gilt das Credo:
"What happens in the Circle, stays in the Circle"
Was ist an einem Wonderwoman Circle besonders?
Der Circle ist nicht wie andere Workshops. Hier wird Exklusivität geboten, denn es nehmen maximal nur sieben Frauen daran Teil. In der Runde hat jede Frau eine Stimme. Du hast die Möglichkeit deine Gedanken, Herausforderungen, Ängste mit den anderen Wonderwomen zu teilen. Es ist dein Moment! Alle anderen hören dir zu. Wir gehen intensiv auf dein Anliegen ein.
Vergiß nie der Wonderwoman in Dir eine Stimme zu geben
Deine Dani
*** WICHTIG!! Die Tickets sind nicht stornierbar ***