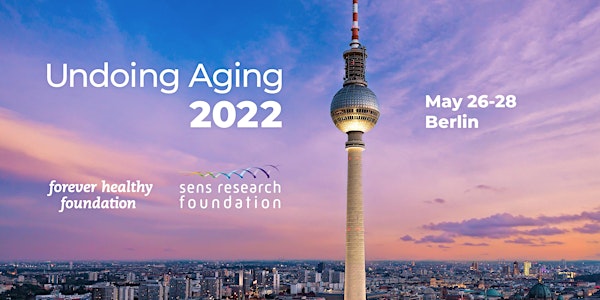 Undoing Aging 2022
Accelerating rejuvenation therapies to repair the damage of aging
When and where
Location
Radialsystem V Holzmarkstrasse 33 10243 Berlin Germany
Refund Policy
Refunds up to 30 days before event
About this event
Forever Healthy Foundation and SENS Research Foundation have announced that the 2022 Undoing Aging Conference in Berlin is cancelled.
After the U.S issued a "Do-not-travel-COVID19-warning" for Germany and while facing a dramatic development in Europe, unfortunately the pandemic situation has made it impossible to plan for a vibrant physical event in Germany.
There will be an automatic refund issued to the ticket holders in the next few days.
About Undoing Aging
The Undoing Aging Conference is focused on the cellular and molecular repair of age-related damage as the basis of therapies to bring aging under full medical control. Undoing Aging brings together scientists and startups from around the globe, all pioneers in their respective fields, who are leading the charge in maintaining and restoring full health in old age.
Undoing Aging is not only open to the scientific community, but also welcomes startups, investors, the general media, and all interested members of the broader rejuvenation movement.
For more information, please visit undoing-aging.org