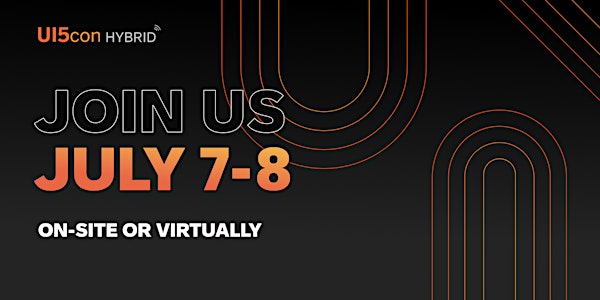 UI5con 2022
UI5con is the ultimate event for UI5 enthusiasts to learn how to get the most out of UI5.
When and where
Location
SAP SE - Building ROT03 SAP-Allee 27 68789 St. Leon-Rot Germany
About this event
UI5con 2022 - We're Back!
After two years of virtual events, we can now open our doors again to a limited number of 100 people. Do you want to be one of the 100 guests at the SAP office in St. Leon-Rot, Germany? Then grab a free ticket!
Join us for a community-driven event packed with lectures, hands-on sessions, and networking opportunities on all UI5 technologies. Meet up with experts and attendees who share the same passion for UI5.
Don't worry: If you can't join us on-site or couldn't secure a ticket on time, you can still be part of this special day. We're going to broadcast all sessions online. Just keep an eye on our home page.
COVID-19 Rules
COVID-19 rules are in place, but we can't predict all future regulations that apply at the event. If any of the rules change before the event, we will let you know!
On the basis of the current regulations at SAP in Germany, we are only allowed to give you access to the building if you provide proof of a negative COVID test which is not older than 24h at the entry of the building.
As proof, you can provide the test certificate of an official test station or show us an electronic selfie with the negative control strip of your COVID self-test.
We will request the test results during registration. If you join us on both days, you only need to provide proof on the first day.
Free testing is offered onsite on Day 1, July 07, from 12:00 to 15:00. But to avoid long waiting lines, we encourage you to take your test in advance.
It is not required to wear a mask indoors during sessions and while you're walking around the building, but it is compulsory to carry an FFP2 mask with. You must wear this mask whenever you cannot maintain a distance of 1.5m from other persons. This applies primarily in the queues, at the registration desk, as well as in the serving and self-service areas of canteens.
Keep in mind
Due to COVID-19 restrictions on-site, there will be limited catering for the event with drinks and snacks. You can bring your food if you prefer. However, there will be a free lunch in the SAP canteen on the second day.
Registration
Seats are limited to 100 participants. If you want to join us, please register here.
Agenda
The detailed agenda will be published on our home page, but here's the overall schedule:
July 7:
12:00 (CEST): Registration opening
14:00-19:00 (CEST): Sessions
19:00 (CEST): End of day 1
19:00-22:00 (CEST): Time for networking (on-site)
July 8:
08:30 (CEST) Registration opening
10:00-15:20 (CEST): Sessions
15:30 (CEST): End of the event
More Information
Learn more about UI5con 2022 HERE and subscribe!
See you in July!