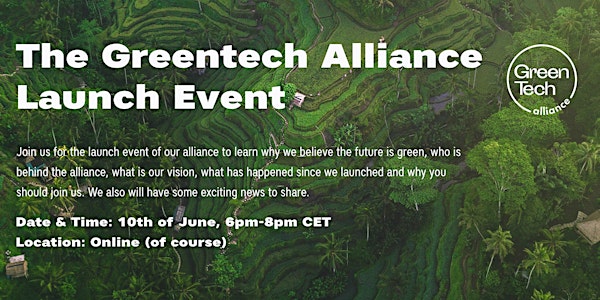 The Greentech Alliance Launch Event
The Greentech Alliance launches!
About this event
Since the launch of the Greentech Alliance, we've had an the amazing amount of applications, enthusiasm and encouragement. We're so excited to be on this journey with you and are happy to announce our first event!
Join us on 10th the June at 6:00pm CET for our first ever Greentech Session.
In this introductory event we'll talk about our vision for the future, what we plan the alliance to look like and where we plan on Greentech startups. We will also present our 150+ advisors.
The event is open to everyone and welcomes anyone related to the topic of sustainability or Green technology.
Agenda:
18.00 - Intro to the Greentech Alliance - vision, process, results so far
18.30 - Intro to the Greentech Alliance Founders
19.00 - Discussion with Special Guests from the Community on their motivation to join and their vision for the future
19.30 - Q&A with the audience.
The event will be streamed on Youtube. Join in following this link: https://www.youtube.com/watch?v=1Nio0jwvtLM&feature=youtu.be
In the mean time, please check out our work so far and register if you haven't: www.greentech.earth