Dieses Event ist beendet.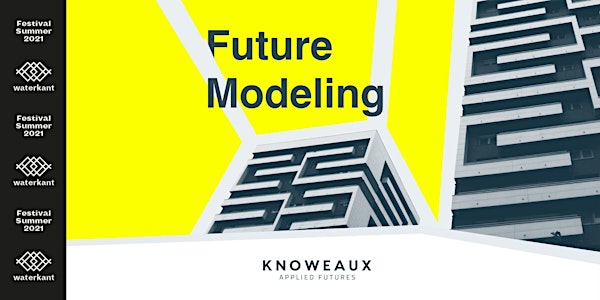 Systemic Desirable Future Scenarios
Knoweaux presents: Future Modeling Workshop - The Follow Up
Rückerstattungsrichtlinie
Zu diesem Event
Systemic Desirable Future Scenarios
On each day of the Waterkant Summer Festival KNOWEAUX Applied Futures offered a Future Modeling workshop to explore the desirable Futures of the day's topic: the Futures of Human Technology, Work, Aging, Education, Cities and our Planet.
In the 1 hour workshop sessions the participants where guided through the Future Modeling method, explored the most important influencing factors for the topic of the day and experienced a fantastic time travel into their desirable futures. During the different workshops a lively discourse about the future of different areas, industries or markets was created.
In the digital follow up workshop on the 29.07.21, 17-19.30 (incl. breaks), the results and insights from all 6 Future Modeling workshops will be reflected and refined with Waterkant Festival participants and interested guests who haven't had a chance to join our workshops during the Festival.
During this workshop we will start to build a Systemic Scenario Map by connecting insights from all topics to one so called Futures Matrix. We have initiated the concept of the Futures Matrix to spark open and interactive dialogues and to combine different perspectives into a holistic big picture of desirable Futures. The Futures Matrix is based on the Future Modeling Framework and Future DNA Building blocks from all previous sessions.
We are looking forward to welcome you to our Time Travel!
Note:
Besides Zoom we will be using the digital Future Modeling Platform, to which you will be invited via your email address in the beginning of the session.
Please join the session using a computer to be able to have both applications open.
KNOWEAUX Applied Futures is a Berlin based transformation and time travel consultancy.
We prepare managers and leaders for paradigm shifts in industries and societies.
We co-create future ready services, strategies and organizations.
We train teams and individuals in future relevant Leadership Capabilities.