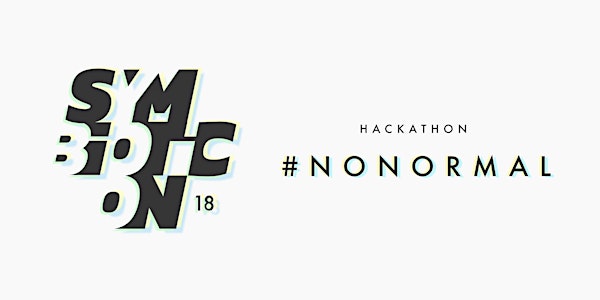 symbioticon
When and where
Location
Messe Frankfurt - Halle 11.0 Ludwig-Erhard-Anlage 1 60327 Frankfurt am Main Germany
Description
Symbioticon 2018 - #nonormal
The Hackathon of the Sparkassen-Finanzgruppe
The Symbioticon will again be a three-day event. This time we do a lot differently, but we keep what has proven itself. This means for you: free participation - including 24-hour catering - HighSpeed Internet :-) and once again highly exciting API and technology partners to implement your ideas and prototypes. There are no guidelines for the programming languages.
NEW AND #NONORMAL IN 2018
More than 250 heavyweights from the sectors IT, Sparkassen and fintech in our networking area, with whom you can make personal contact

Probably the largest online expert jury of all German hackathons

A new, highly remunerated prize concept that lets your winning ideas take off
YOUR CHALLENGE
This year it is your task to think cross-industry. You should focus even more on the user. The following six target groups can be freely chosen: Generation Z, Family, Midlife Performer, Best Ager, Freelancer, Small Business Clients. These target groups will each be represented on site by an expert to challenge your ideas. In addition, our large tester community is available to you as a sparring swarm.
Program
/// November 20, 2018
12:00 h – Come Together
13:00 h – Lunch
14:00 h – Opening hours
15:00 - 16.00 h – Team finding
From 18:00 h – Networking, IT expert discussion, dinner and cold drinks
/// November 21, 2018
08:00 h – Breakfast
09:00 h – Start Coding
10:00 h – Keynote Andrew Keen
13:00 h – Lunch
14:00 - 16:00 h– Fintech Alarm
19:00 h – One-Minute-Challenge
/// November 22, 2018
08:00 h – Breakfast
13:00 h – End-of-Coding
13:00 h – Lunch
14:00 - 17:00 h – Pitches
18:00 h – Award ceremony
19:00 h – Afterparty




Symbioticon 2018 - #nonormal
Der Hackathon der Sparkassen-Finanzgruppe
Die Symbioticon steigt auch in diesem wieder als dreitägiges Event. Wir machen diesmal zwar vieles anders, aber bewahren, was sich bewährt hat. Das heißt für euch: kostenlose Teilnahme – inklusive 24-Stunden-Verpflegung – HighSpeed Internet :-) und wieder mal hoch spannende API- und Technologie-Partner zur Umsetzung eurer Ideen und Prototypen. Seitens der Programmiersprachen gibt es keine Vorgaben.
NEU UND #NONORMAL IN 2018
Über 250 Schwergewichte aus den Bereichen IT, Sparkassen und Fintechs in unserer Networking-Area, mit denen ihr in persönlichen Kontakt treten könnt

Die vermutlich größte Online-Experten-Jury aller deutschen Hackathons

Ein neues, hoch dotiertes Preiskonzept, das Eure Gewinner-Ideen abheben lässt
EURE HERAUSFORDERUNG
In diesem Jahr ist es eure Aufgabe, cross-industry zu denken. Dabei solltet ihr den Nutzer noch weiter in den Mittelpunkt stellen. Die folgenden sechs Zielgruppen können frei gewählt werden: Generation Z, Family, Midlife Performer, Best Ager, Freelancer, Small Business Clients. Diese Target Groups werden vor Ort jeweils durch eine Expertin oder einen Experten vertreten, um eure Ideen zu challengen. Darüber hinaus steht euch unsere große Tester-Community als Sparrings-Schwarm zur Verfügung.
Programm
/// 20. November 2018
12:00 Uhr – Come Together
13:00 Uhr – Mittagessen
14:00 Uhr – Eröffnung
15:00 - 16.00 Uhr – Teamfindung
Ab 18:00 Uhr – Networking, IT-Expertendiskussion, Dinner und Kaltgetränke
/// 21. November 2018
08:00 Uhr – Frühstück
09:00 Uhr – Start Coding
10:00 Uhr – Keynote Andrew Keen
13:00 Uhr – Mittagessen
14:00 - 16:00 Uhr – Fintech Alarm
19:00 Uhr – One-Minute-Challenge
/// 22. November 2018
08:00 Uhr – Frühstück
13:00 Uhr – End-of-Coding
13:00 Uhr – Mittagessen
14:00 - 17:00 Uhr – Pitches
18:00 Uhr – Preisverleihung
19:00 Uhr – Afterparty