Location
Maison de la Mutualité
24 Rue Saint-Victor
75005 Paris
France
Sales Have Ended
Registrations are closed
Hey Summoner! We are looking forward to seeing you at the World Finals in Paris!
Join the Summoners War World Arena Championship 2019 World Finals at Maison de la Mutualité in Paris!
About this event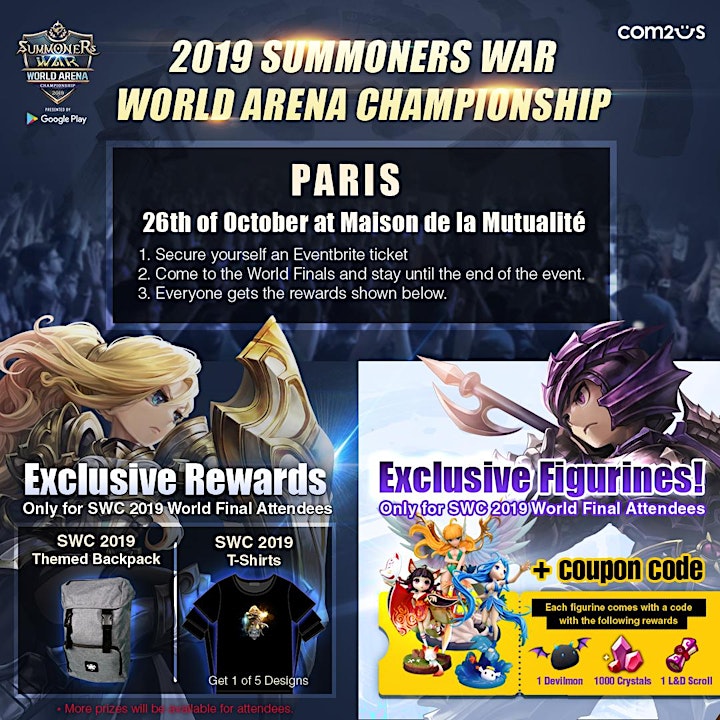 IMPORTANT: Only one (1) ticket order per person is allowed.
FOR GERMAN AND FRENCH TEXT PLEASE SCROLL DOWN!
Admission is FREE and the gates to the arena open at 12:00 PM (noon) CEST.
Register now to watch the top Summoners War players from Asia, Europe and America play live on stage.
French and English hosts on stage and many more languages streamed live from the venue.
Meet your friends, guildmates or favorite streamers and share your knowledge about the best monsters, runes and strategies with other Summoners.
Get your personal, exclusive goodie bag with awesome Summoners War items and codes (only available on-site in Paris!).
Take pictures with the best Summoners War Cosplayers and win prizes in our giveaways & community challenge games.
Enjoy free food & drinks: you will get a bag with water, sandwich and snacks, and vouchers for additional free non-alcoholic drinks at the bar.
Questions? Please go to our event page on Facebook or visit our Discord.
Age restrictions and ID: If you are 12 or under, an adult must accompany you throughout the duration of your stay. Please have your ID ready at the entrance.
PHOTO & VIDEO RECORDING
THIS EVENT WILL BE RECORDED ON VIDEO. BY ATTENDING THIS EVENT YOU GIVE PERMISSION TO THE AUDIO-VISUAL RECORDING OF YOURSELF.
THESE AUDIO AND VIDEO RECORDINGS WILL BE SHOWING A RANDOM SELECTION OF ATTENDEES. THE FOOTAGE WILL BE PUBLISHED ON OUR HOMEPAGE, IN PRINT AND DIGITAL FORMAT AS WELL AS ON SOCIAL MEDIA CHANNELS.
BY ENTERING THE VENUE, THE ATTENDEE AGREES TO THE PUBLICATION IN THE AFOREMENTIONED MANNER AND IS NOT ELIGIBLE TO ANY REMUNERATION. THERE IS NO REQUIREMENT FOR THE ATTENDEE TO GIVE HIS OR HER EXPLICIT CONSENT.
SHOULD AN ATTENDEE NOT AGREE TO RECORDINGS OF HIMSELF OR HERSELF, WE KINDLY ASK THEM TO CONTACT THE PHOTOGRAPHER OR CAMERA CREW IN CHARGE.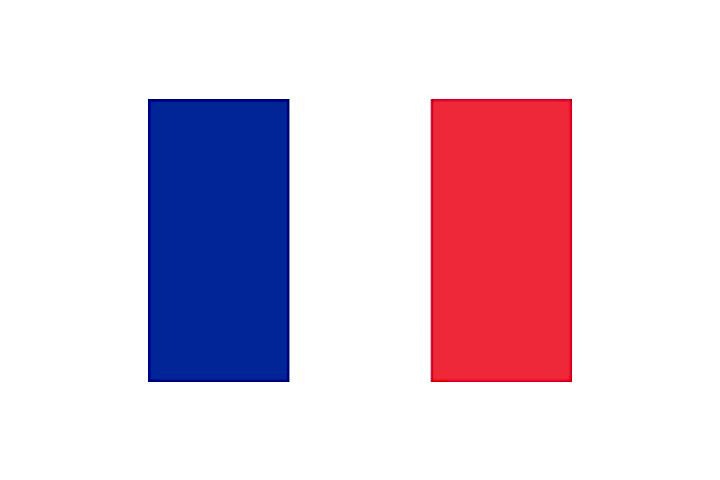 IMPORTANT: Un seul (1) billet peut être commandé par personne.
Rejoignez la finale du SWC 2019 à la Maison de la Mutualité à Paris!
L'entrée est GRATUITE et le lieu ouvrira à 12h00 (heure de Paris).
Inscrivez-vous dès maintenant pour regarder les meilleurs joueurs de Summoners War d'Asie, d'Europe et d'Amérique s'affronter en direct!.
Le tournoi sera commenté sur scène par des présentateurs français et anglais, et bien d'autres langues seront streamées en direct sur les lieux.
Rencontrez vos amis, votre guilde et vos streameurs favoris, discutez de vos monstres préférés, de vos runes et de vos stratégies avec d'autres invocateurs.
Recevez un goodie bag exclusif avec des articles Summoners War et des codes (seulement disponibles sur le lieu de l'événement à Paris !).
Prenez des photos avec les meilleurs cosplayers Summoners War et gagnez des prix lors des événements qui se dérouleront sur les lieux.
Profitez de nourriture et boissons gratuites: vous recevrez un sac avec de l'eau, un sandwich et des snacks, ainsi que des coupons à échanger au bar contre des boissons non alcoolisées additionnelles.
Des questions? Nous vous invitons à les poser sur le post d'événement sur Facebook ou sur notre Discord.
Âge et pièce d'identité: Si vous avez 12 ans ou moins, un adulte devra vous accompagner jusqu'à votre départ du lieu de l'événement. Vous devez être en possession d'une pièce d'identité à l'entrée.
PHOTOS ET VIDÉOS
CET ÉVÉNEMENT SERA FILMÉ. EN VOUS RENDANT SUR LES LIEUX, VOUS DONNEZ LA PERMISSION D'ÊTRE FILMÉ ET ENREGISTRÉ.
CES ENREGISTREMENTS AUDIO ET VIDÉO MONTRERONT UN NOMBRE ALÉATOIRE DE PARTICIPANTS. CES VIDÉOS ET PHOTOS SERONT PUBLIÉES SUR NOTRE SITE OFFICIEL, IMPRIMÉES ET ÉGALEMENT MISES À DISPOSITION SUR NOS RÉSEAUX SOCIAUX.
EN ENTRANT DANS LE LIEU D'ÉVÉNEMENT, VOUS ACCEPTEZ LA PUBLICATION DE CES IMAGES SUR LES PLATEFORMES SUS-CITÉES ET N'ÊTES ÉLIGIBLE À AUCUNE RÉMUNÉRATION. LE CONSENTEMENT EXPLICITE DU PARTICIPANT N'EST PAS REQUIS.
SI VOUS REFUSEZ D'ÊTRE FILMÉ OU PRIS EN PHOTO, NOUS VOUS DEMANDONS DE BIEN VOULOIR CONTACTER LE PHOTOGRAPHE OU L'ÉQUIPE VIDÉO EN CHARGE.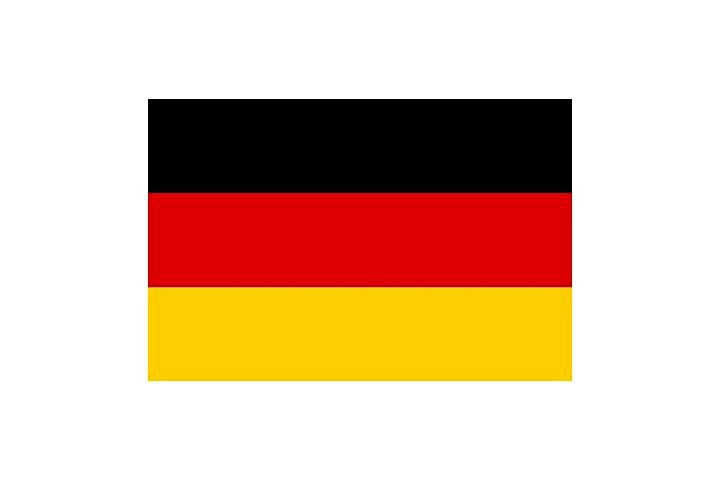 WICHTIG: Es darf nur ein (1) Ticket pro Person erworben werden.
Sei beim Summoners War World Arena Championship 2019 Weltfinale im Maison de la Mutualité in Paris dabei!
Der Eintritt ist KOSTENLOS und der Einlass beginnt um 12:00 Uhr mittags (MESZ).
Registriere dich jetzt, um die besten Summoners War Spieler aus Asien, Europa und Amerika live auf der Bühne spielen zu sehen.
Das Event wird auf Französisch und Englisch moderiert und in vielen weiteren Sprachen live vom Veranstaltungsort aus gestreamed.
Treffe dich mit deinen Freunden, Gildenmitgliedern oder Lieblingsstreamern und tausche dich mit anderen Beschwörern über die besten Monster, Runen und Strategien aus.
Erhalte dein persönliches, exklusives Goodie Bag mit fantastischen Summoners War Artikeln und Codes (nur vor Ort in Paris erhältlich!).
Fotografiere dich mit den besten Summoners War Cosplayern und gewinne tolle Preise bei unseren Giveaways & Offline-Herausforderungen.
Genieße kostenlose Verpflegung & Getränke: Jeder Besucher erhält ein Päckchen mit Wasser, einem Sandwich, Snacks und Coupons für zusätzliche alkoholfreie Getränke an der Bar.
Fragen? Bitte schaue auf unserer Eventseite auf Facebook oder auf unserem Discord vorbei.
Altersbeschränkung und Ausweis: Wenn du 12 Jahre oder jünger bist, muss ein Erwachsener zur Begleitung dabei sein. Bitte halte deinen Ausweis am Eingang bereit.
FOTO- & VIDEOAUFNAHME
DIESES EVENT WIRD AUF VIDEO AUFGEZEICHNET. MIT DER TEILNAHME STIMMT IHR EVENTUELLER BILD- UND TONAUFZEICHNUNG VON EUCH ZU. DIE AUFNAHMEN WERDEN EINE ZUFÄLLIGE AUSWAHL AN BESUCHERN ZEIGEN UND KÖNNEN AUF UNSERER HOMEPAGE, IN PRINT UND DIGITALFORMAT, SOWIE UNSEREN SOCIAL MEDIA KANÄLEN GETEILT WERDEN. MIT DEM BETRETEN DES VERANSTALTUNGSORTES STIMMT IHR DIESEN ZUVORGENANNTEN BESTIMMUNGEN ZU UND SEID NICHT IN DER LAGE DIES ZU WIDERRUFEN. EINE GESONDERTE ZUSTIMMUNG DER TEILNEHMER IST NICHT ERFORDERLICH. SOLLTEN TEILNEHMER NICHT DAMIT EINVERSTANDEN SEIN, BITTEN WIR EUCH DEN FOTOGRAF ODER DIE KAMERA MANNSCHAFT ANZUSCHREIBEN.