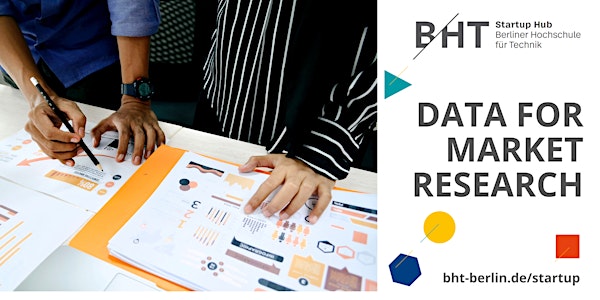 Startup-Webinar: Do vital market research or forget about the funding
How to find data and conduct a market research proving your business concept!
About this event
Market research is the key to perfect your pitch deck and get investors on board.
What would convince investors to trust you and give you money? Is your pitch deck bulletproof, and will it withstand the harsh grilling? Can you explain your value proposition against competitors? Do you know how big is your go-to-market?
If not, don't even think about fundraising.
When you're a brand-new startup with no established position and proof (traction) that what you're doing is needed by clients, all you have is a story. But even the best story won't hold in the eyes of potential investors if not backed by solid fundamentals, a.k.a. market research.
This aspect is neglected by young companies, which tend to focus on product development. It's understandable – it's their baby and the backbone of the whole business. However, they struggle to understand that VCs, business angels, and other investors review hundreds (if not thousands) of pitches, from which they choose only a few. Startups that do proper market research are more likely to secure an investor.
During the webinar, we explain how to do it and where to start.
Participants will learn how to approach the market research process and how to improve it. They will get to know the techniques for calculating market size (TAM, SAM, SOM), and the best tools and data sources (including free ones) to use daily.
CALL TO ACTION!
Submit your current market research materials by FRIDAY, October 7th, and get live feedback on how to improve it
SUBMISSION OF MARKET RESEARCH MATERIALS CAN BE FOUND IN THE REGISTRATION FORM!
For whom is this webinar:
- B2B tech startups
- Those who are interested in better understanding their business fundamentals and how to improve them
- Those who will be involved in the process of fundraising and investors relations
- All the key decision stakeholders in the organization
Agenda:
- 30 mins presentation, followed by an interactive discussion
- Feedback on the market research materials submitted in advance of the workshop
Meet our Experts:
Tomasz Kryda
Co-Founder at DiveInData, Head of Research
Tomek is an analyst with 10+ years of experience in market research, competitive analysis, and strategic consulting. He has worked in renowned international corporations such as consulting firm McKinsey&Company, FMCG chain AmRest (Pizza Hut brand), and research agency Euromonitor International. Tomek also has experience in the public sector (project advisor at Wroclaw University of Technology) and the VC industry (investment analyst at Venture INC). He graduated with honors from the University of Wrocław, majoring in international relations.
Natalia Kuźma
CEO, Co-Founder at DIveInData
Natalia is a business analyst and project manager. She delivered multiple projects in new technology areas such as MedTech, Cybersecurity, and more. Experienced in market research, conducting in-depth interviews, and product validation. She has worked at a consulting company dedicated to SMEs (360 Degrees), a MarTech startup (Snapsh.ai), and the VC industry. Natalia founded a non-profit project focused on the reduced-waste movement and sustainability. Member of Sigma Squared Society.
This is event is organised by: