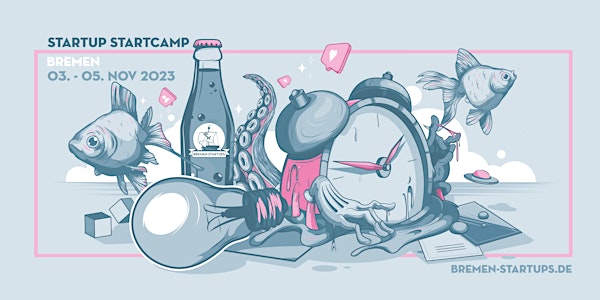 Startup Startcamp Bremen
FROM IDEA TO STARTUP IN 54 HOURS
Date and time
Fri, 3 Nov 2023 17:00 - Sun, 5 Nov 2023 21:00 CET
Location
weserwork gGmbH Hermann-Ritter-Straße 112 28197 Bremen Germany
Refund Policy
Refunds up to 7 days before event
About this event
2 days 4 hours

Mobile eTicket
About STARTUP STARTCAMP BREMEN
STARTUP STARTCAMP is designed for those who are interested to (co-)start a startup:
Transform a rough idea to maturity in just 54 hours! Pitch your idea or join an idea that you are passionate about.
Find awesome like-minded people, grow your network & learn new skills.
Test your assumptions, conduct market research, tune your business model, develop your demo or prototype.
On Sunday, pitch your startup concept to a jury & public audience, get feedback - and maybe your own startup will be born this weekend!
For all event details, please check the FAQ, event schedule, video & lineup below:
1) Is that event for me?
Why not? A STARTUP STARTCAMP works by a variety of skills and experiences. Designer & creatives,  software & hardware developers, business & industry experts, people with ideas & co-founders, students & professionals meet at STARTUP STARTCAMP to form startup teams.
2)  Will I get support?
You are not alone! Experienced founders, experts & coaches will support you (check the out below). Also food & drinks are included in your ticket so that you can focus and concentrate on your project.
3) Should everyone pitch business ideas?
It is entirely your choice to pitch a business idea or join the team of an idea you believe in. Either ways, we want you to enjoy this exhilarating experience of building startups. Your idea should be something you have not previously worked on.
4) What is the language of the event?
The event moderation and all pitches will be in English. You can discuss with your teammates and mentors in the language of your choice.
5) Do I register only myself or do I have to register as a startup team?
Register yourself. You can't register as a team. Don't worry if you don't know anyone attending. We will help everyone form groups, and there will be lots of possibilities to mingle and get to know other attendees.
6) How big are the teams?
Teams of 3 to 5 members are the ideal number for optimal results.
7) What do I need to bring?
A laptop and a desire to contribute! You must be able to attend Friday, Saturday and Sunday.
8) I'm not from Bremen. Can you recommend accommodation close to the event location?
The eventlocation (Weserwork co-working space) is embedded in the Tabakquartier, a new urban living+work quarter in Bremen.
The nearest Hotel to Weserwork is Hotel Unique which is based in the Tabakquartier. During the booking process, use the code "Weserwork" to get a 10 Euro/day discount at Hotel Unique.
Off course, you'll find lots of other accomendation options in Bremen.
9) What is included in the ticket price?
Your ticket is semi-sponsored by the awesome supporters of bremen-startups.de to be able to provide you more value than what you actually pay for. Your ticket includes food, drinks, and one-on-one time with amazing mentors over the course of the weekend.
TICKET TYPES are Desigern/Creative, Developer/Engineer, Industry Expert & Business. Check out the ticket descriptions and choose that tickety wich fits best to you.
ATTENDEE TICKETS limited to 50 tickets in total!
First come, first serve. So don't wait to the last day to book your ticket ;-)
REGULAR TICKETS (35 Euro) available until Oct 27.
LATE BIRD TICKETS (60 Euro) available from Oct 28
VISITORS: Just wanna watch the final pitches on sunday evening? Get a VISITOR ticket (limited to 30 tickets).
Check the VIDEO, SCHEDULE & LINEUP BELOW to get an impression about STARTUP STARTCAMP BREMEN!
Any questions, please email Jan at: ahoi@bremen-startups.de
Refund Policy:  No refunds are possible within 7 days prior to the event because then food and drinks have already been ordered. Apologies for any inconvenience this may cause.