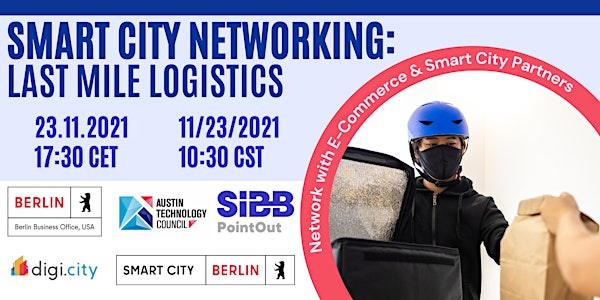 Smart City Solutions Networking: Future of Last Mile Logistics
Network with E-Commerce & Smart City Partners from Berlin and the U.S.!
About this event
Join Berlin and US representatives of the Smart City ecosystem to tackle to the topic of challenges and perspectives of last mile logistics that has already reshaped e-commerce deliveries sector with the 25% increase in 2020.
Win partners with incentives in :
Solutions for the up-to-date supply chain
Higher accuracy in scheduling deliveries
Real time tracking of deliveries
The smart city ecosystems of the regions are highly innovative: in Berlin, up to 300 players are working on smart urban solutions. Decision-makers and innovators have the perfect space here to network.
Agenda:
17:30 - 17:35
Orientation & Welcome words by SIBB e.V.
17:35 - 17:50
Welcoming remarks by:
17:50 - 18:30
Expert Panel: "Future of Last Mile Logistics"
Moderation: Robert Lenk, Project Manager Innovation, Berlin Partner for Business and Technology GmbH Smart Cities Division
18:30 - 19:00
Networking in breakout rooms with Berlin and Austin representatives and companies
19:00 - 19:15
Best practice: "Smart City iHubs in Germany and in the USA"
Ulrich Ahle, CEO, FIWARE Foundation, Berlin, Germany + Austin, TX, USA
19:15 - 19.20
Closing remarks
A joint event by Berlin Partner for Business and Technology GmbH Smart Cities Division, SIBB e.V., Berlin Business Office, USA, Austin Technology Council, Digi.City
Project PointOut is co-financed by:

Event partners and companies of panel experts:
Berlin Business Office, USA supports, connects and presents Berlin's economy in the U.S. Likewise, it is Berlin's first point in the U.S. Whether you plan to invest as a Berliner in the U.S. or aim to access Berlin's markets from there, BBO, USA helps you to connect. Its focus is set on supporting Berlin's Startups and SME's along with their economic clusters incl. Energy, Mobility, or ICT.
Austin Technology Council is the leading unifying voice of technology in Central Texas. Since 1992, ATC has been the informed opinion leader, providing our member companies with the insights, resources and connections they need to grow and thrive.
Digi.City is a platform designed to discuss policy related to deploying and supporting smart city technology. By publishing content, hosting events and convening leaders from the public, private and academic sectors, Digi.City informs and advances the conversation in efforts to create more equitable and accessible communities.
LAST MILE CITY LOGISTICS is a digital meeting point for providers and users of logistics solutions, concepts and strategies for the delivery of goods, goods and services on the so-called last mile.
Urbify is the operating system for last mile delivery. Urbify creates superior delivery experiences through quality-oriented incentive systems for delivery drivers coupled with efficient routing algorithms to ensure reliable on-time delivery for end-customers. Urbify operates hubs and delivery capacities across Germany to provide high performance Same Day and Next Day Deliveries. With their ever-evolving operating system, Urbify does not only empower their own operational network, but also the operations of known e-commerce and e-grocery brands that provide last mile delivery services to their customers.
FIWARE is the globally leading Open Source technology for Smart Cities. In addition FIWARE is providing standard interfaces and standard data models to avoid data silos and a vendor-lock-in effect. More than 250 cities in 30 countries are driving their digitization based on FIWARE. The core building block of FIWARE is the Context Broker which is recommended by the European Commission to the member states. FIWARE is Day One Member of Gaia-X and founder of the Data Spaces Business Alliance.
Auctane LLC is a team of shipping and software experts with a passion for helping merchants fulfill their most audacious dreams. Our software solves ecommerce problems so our customers can scale their business on demand



By registering for the event, you agree that photos or videos that are made at this event and depict you may be copied, distributed, broadcast and made publicly accessible by SIBB e.V. and the Smart City Berlin unit by naming your name. This license is granted free of charge.
This consent is revocable. You have the option at any time to have SIBB eV remove photos / videos that you or your companion took at the event and that are on the SIBB websites or on pages on social media platforms (in particular Facebook and Twitter) or on YouTube to let. All you need to do is send a short email to veranstaltung@sibb.de