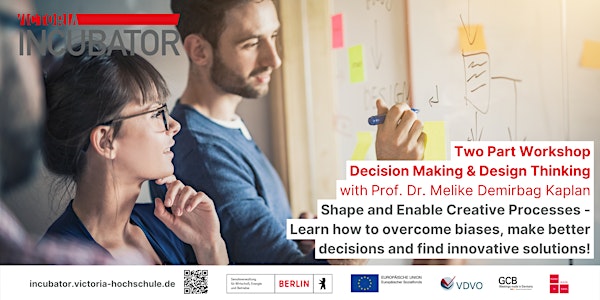 Shape and Enable Creative Processes with Design Thinking
Two Part FREE Workshop - Decision Making and Design Thinking. Shape and Enable Creative Processes!
About this event
The workshop consists of two parts on Tuesday 7th, and Thursday 9th June at 18:00 - 19:00. It will provide you with an insight into decision-making processes, human rationality and irrationality, thinking errors, fixation and cognitive bias. Importantly you will a methodical approach on how you can avoid these common thinking pitfalls!
You will gain an insight into the design thinking concept, which will enable and shape creative processes and apply them to any area of your life, whether it be personal or professional and business challenges.
This workshop is Free to attend as is part of our Free Workshop Series run by the Smart City Event Incubator at the VICTORIA | Internationale Hochschule.
About Prof. Dr. Melike Demirbag-Kaplan:
Melike Demirbag-Kaplan is Professor of Business at VICTORIA | International University of Applied Sciences (formerly HWTK) in Berlin, Germany. Prior to this position, she held professorship positions at Izmir University of Economics and Yasar University in Turkey. In 2014, she was a visiting researcher at Schulich School of Business, York University, Canada.
Her research interests include brand management, anti-consumption, and consumer behaviour in developing markets. Her published works have appeared in peer-reviewed journals and books, including the European Journal of Marketing, Service Industries Journal, Journal of Brand Management, Journal of Marketing Education, Convergence, and Journal of Public Health Policy among others.
Her academic experience is complemented by several years of industry experience, particularly in marketing and business development, as well as a brand consultancy practice.
Note: it is recommended that you attend both workshops to maximise learnings