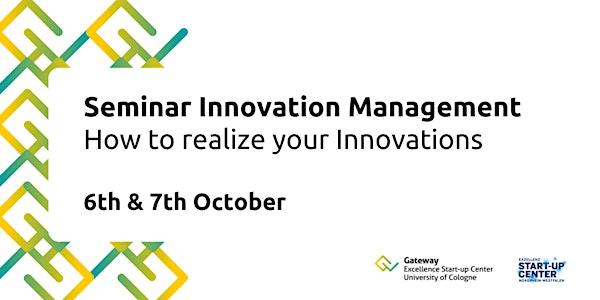 Seminar Innovation Management
How to realize your innovations
When and where
Location
Universität zu Köln - Seminargebäude Universitätsstr. 37 50931 Köln Germany
About this event
The 2-day seminar on "Innovation Management" imparts coaching to participants from different natural sciences backgrounds and job profiles on the basics of innovation and how to manage it. In this context, soft skills such as teamwork, communication and presentation skills of the participants will be further developed.
In this seminar, business simulations that build a bridge between business theory and business practice will be employed. The business simulations are based on the didactic concept of "learning by doing". They represent a model reality and thus offer the participants the opportunity to learn quickly and build hands-on experience, without risk and in a sustainable way.
Teaching modules tailored to the target group of natural science aficionados (e.g. from the areas of team building, mega-trends, creativity techniques) and special tasks from used cases (e.g. presentation of generated the fictitious management) complete the didactic spectrum of the seminar.
The group of participants includes a maximum of 30 people, who are divided into teams of 3-6 people each.
The business simulation used is priME SIM Innovation - Realise your Business Innovations. priME SIM Innovation is a haptic simulation for learning the central elements of innovation processes. The participants are at the centre of the challenges that characterises the path from team finding to idea generation to marketable innovations.
In structured teaching activity modules guided by the seminar leader, the focus is on the following topics, among others:
- Idea generation based on future society megatrends.
- Team composition with the priME SIM team test according to Belbin
- Examination and selection of the generated ideas according to market relevance
- Testing and selection of the generated ideas according to business model capability
- Business model development with the Business Model Canvas or with the Business Plan
WHO CAN PARTICIPATE?
Research scientists, PhD students and master students from universities and applied science schools in Cologne (Universität zu Köln, TH Köln, DSHS, RFH)
WHEN & WHERE?
October 6th & 7th
from 9 a.m. - 5 p.m.
at Seminar Building Room S23,
Universitätsstr. 37, 50931 Köln
TICKETS
FREE (spots are limited!)
Data protection notice: Film and photo recordings will be made at the event. This material will be used as part of the announcement of further events and documentation on www.gateway.uni-koeln.de and on various online channels. Those who participate in the event give their consent to the use of these recordings. If a participant does not want to be recorded, then we ask that this be communicated to the organizers at gateway-events@uni-koeln.de. Then we can exclude these recordings from the outset. Thank you very much!