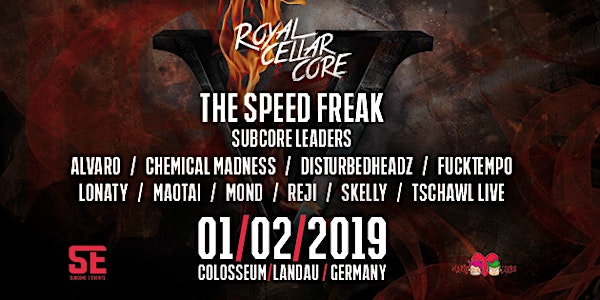 Royal Cellar Core Part 5 & Subcore Leaders Bday!
When and where
Location
Colosseum 5 Wollmesheimer Höhe 76829 Landau in der Pfalz Germany
Description
Unsere Subcore Events Family präsentiert euch zusammen
mit
Harte Liebe-Events
und den Geburtstagskindern
Lonaty
(
Jonas
),
Skelly
(
Seamus
)
Royal Cellar Core Part 5!
Aber natürlich nur mit euch!
► http://bit.ly/ticket-rcc5
Die Ticket Nachfrage ist mit jeder Royal Cellar Core und vorallem der Hall Of Core stark angestiegen. Um zu vermeiden, dass das Colosseum überfüllt ist und niemand mehr Spaß hat weil kein Platz mehr da ist haben wir beschlossen die Anzahl der Tickets zu begrenzen. So bleibt für alle mehr PLATZ ZUM HAKKEN und mehr Komfort für alle! Weniger Tickets bedeutet natürlich nicht dass wir weniger Kosten haben, also mussten wir den Preis erhöhen, wir hoffen dass ihr uns versteht.
Einlass nur mit gültigem Ausweisdokument!
Personalausweis, Führerschein oder Reisepass!
Die Veranstaltung ist ab 16 Jahren mit U18-Formular und Begleitperson! Pro Begleitperson darf nur eine Person unter 18 Jahren betreut werden.
Link zum Formular: http://partyzettel.de/?q=hl&ua=win