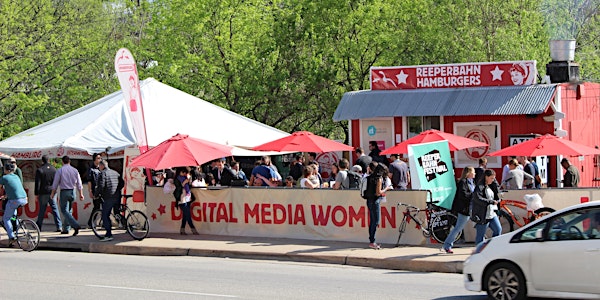 Reeperbahn Hamburgers - Digital Media Women Day
When and where
Location
Downtown Burgers 503 East Cesar Chavez Street Austin, TX 78701
Description
Info below, but before we start, please don't forget to attend our other events too!
+++
On March 11, digital media professionals from around the world will gather in Austin. The City of Hamburg offers a great chance to get together, collaborate and showcase each other's work.
Digital Media Women is a network of female makers from Germany (Hamburg, Cologne, Berlin, Munich, Stuttgart, Rhein-Mein, Leipzig) will join with other global women to discuss, deliberate and create visibility around the topics and ideas that matter most to women in the media. It's about Digital Leadership. We will host a series of talks and presentations with networking built in between presentations.
Join us to:
# Connect with senior and aspiring leaders in digital media and tech
# Learn about the most innovative developments in media and tech from the women who are creating them
# Receive online visibility through #DMW channels
Here are our fantastic experts:

Hosts Of The Day & Welcome Speech
Chelsea Collier | Intercambio Group | Founder
Sanja Stankovic | Digital Media Women & Hamburg Startups | Founder
Anu Passi-Raustei: Creating Competitive Advantage By Identifying The Right Skills

Headai Ltd | Head of Business Development
Robyn Metcalfe: Food

And The Future



Sarah Sharif:

Why Should I Bother To Hack?
Founder & CEO of Experimental Civics |

Event Director for ATX Hack for Change | Writer for Hacker Noon
Sara Inés Calderón

:

How To Build A Feminist Engineering Team
MUSX

| Lead Mobile Developer
Kathrin Kistner:
Learnings From a 3-Year-Old
Qualitize | Founder
Maren & Matthias Wagener
:

It´s Trust Baby, Not Control!
VAST Forward | Founder & Consulting Officer
Linda Portnoff
:

F

air
Trade To Empower Music Creators
Riteband | CEO
Morgan Hamel
:
Badass Women
re:3D | Chief Storyteller
Barbary Brunner

:

What Tech Can Teach Cities And Vice Versa
Austin Technology Council | CEO
Rosa Riera

:

The Power Of Conversations - How To Build An Employer Brand For The
and Social Innovation

Digital Age
Siemens | Vice President Employer Branding
Kerstin Bock: Why
Community Matters!
Openers & Tech Open Air | Founder
Veronika Reichboth: A Public Institution´s perspective
Hamburg Invest | Director StartubHHub

Supporting Female Founders
Laurie Felker Jones:

Making Child Care Easy For Working Parents
JuiceBox Hero | Founder & CEO
+++

This event is hosted by the City of Hamburg - where the Digital Media Women network was founded in 2010. The program is curated and organized by Sanja Stankovic (Co-Founder Digital Media Women & Hamburg Startups, Hamburg) and Chelsea Collier (Founder, Digi.City, Austin).
PLEASE NOTE:
Badge holders only - this is a business event.
RSVP can not guarantee entry as we have a limited capacity and reserve the right to select our guestlist.
You must be over 21 years to attend.
+++

About #DMW
Net. Work. Power. Digital Media Women is Germany's biggest network of action-taking-females. We stand for providing women a stage, whether at conferences, in the media or managing boards. Our goal is to have women be equally integrated and visibly able to influence. The #DMW is a non-profit association. All women in the organization teams are working on a voluntarily basis in and for the network. The Digital Media Women was founded 2010 by eight women in Hamburg to increase the visibility of many talented, innovative women in tech. Now, seven years later, the Digital Media Women network is connecting more than 10,000 women and men in Germany and is participating in seven cities in Germany (Hamburg, Berlin, Cologne, Munich, Frankfurt, Stuttgart & Leipzig).
About Hamburg
Hamburg - hub for creative industries and city on the waterfront - is the most dynamic economic region in northern Europe. Hamburg is the advertising and media capital of Germany and favorite working place for creatives, artists, musicians, game designers and big industry leaders as Facebook and Google. The hanseatic city is one of the top locations in Europe for startups. As the center of the country's music industry, it attracts both artists and music business professionals and hosts one of the three biggest and most important music business events in Europe: the Reeperbahn Festival. The city of Hamburg has come to Austin for many years and represents one of the biggest delegations. Hamburg companies will be given support in various forms on site by giving opportunities for networking and presentation. The Interessengemeinschaft Hamburger Musikwirtschaft (IHM) and the Reeperbahn Festival play a key role in the organisation.
+++

The project is supported by the city of Hamburg in cooperation with Hamburg Marketing GmbH and Ministry of Culture and Media Hamburg. It is organized by Hamburg Music Business Association (IHM) and Reeperbahn Festival. Interactive Content is curated in collaboration with Sanja Stankovic (Hamburg Startups). Further partners are: ANCHOR – Reeperbahn Festival International Music Award, Digital Media Women (#DMW), fischerAppelt, Good School Hamburg, Hamburg Startups, Music Cities Network, NEXT Conference and Sutor Bank.