Dieses Event ist beendet.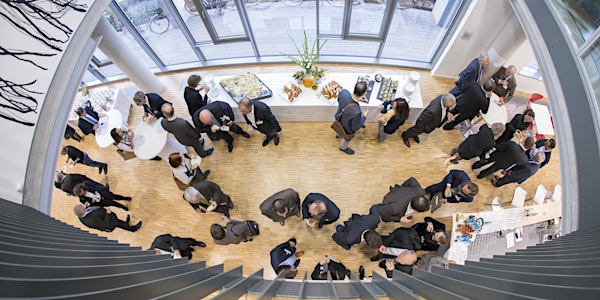 Real World Data in Healthcare: Data analytics, data privacy and harmonized ethical requirements | An International EIT Health Workshop
Zeit und Ort
Veranstaltungsort
Friedrich-Alexander University Erlangen-Nürnberg Ulmenweg 18 Faculty of Medicine | Hörsäle Medizin 91054 Erlangen Germany
Karte und Wegbeschreibung
Beschreibung
In collaboration with the German MIRACUM (Medical Informatics in Research and Care in University Medicine) Kick-off Symposium 2018, 22 – 23 February 2018 at the Friedrich-Alexander-University Erlangen-Nürnberg.
The workshop will focus on the needs/roadblocks of EIT Health partners in real world evidence for new health products and services. In the second part, a world café and panel discussion will make efforts to define recommendations on how to overcome the problems identified by the participants.
As EIT Health Partner, please see also our Call for Short Talks on Subtopics, Speakers and Poster Presentations: [Download Call]


---
DRAFT AGENDA
10:15-11:00 Registration and Welcome Coffee
11:00-11:15 Welcome

Prof. Dr. med. Jochen Klucken, University Hospital Erlangen
Prof. Dr. Hans-Ulrich Prokosch, Faculty of Medicine, FAU Erlangen-Nürnberg
Dr. Katharina Ladewig, Managing Director of EIT Health Germany
11:15-12:00 Keynote Speech: "Leveraging Real World Data to Improve Outcomes in Healthcare"
Dr. Melvin "Skip" Olson, Global Head of Real World Evidence & Innovation, Novartis (including 10 min Q&A)
12:00-13:00 Short Talks: Data Analytics
a) Real World Evidence in High Resolution - Unlocking the Value of Large Scale Population Cohorts - Bart Scheerder, University Hospital Groningen, CLC Belgium/the Netherlands
b) Artificial Intelligence in Drug Development leads to Precision Medicine - Marco Schmidt, Biotx.ai, CLC Germany
c) Leveraging Speech Analysis to Model Neurocognitive Disorders - Applications for Frontline Screening and Professional Diagnosis Support - Johannes Tröger, German Research Center for Artificial Intelligence (DFKI), CLC Germany
13:00-14:00 Lunch Break and Posters

14:00-15:00 Short Talks: Legal Framework and Standardization

d) Legal Framework for Processing Data in Healthcare Environment - Christopher Peschel, Siemens Healthineers, CLC Germany
e) How IHE (Integrating the Healthcare Enterprise) can help sharing medical data - Eric Poiseau, INRIA, CLC France
f) Ethical Requirements for Processing Real World Data - Isabelle Huys, KU Leuven, CLC BENE, EIT Health ELSI Board Member
15:00-16:30 World Café - Structured Networking & Discussion Groups on the following topics (tbc) based on the previous short talks. After a certain time, switching among discussion groups will be possible. Coffee, tea and refreshments will be served:
Real World Evidence in High Resolution – hosted by Bart Scheerder, University Hospital Groningen
Artificial Intelligence in drug development leads to Precision Medicine – hosted by Marco Schmidt, Biotx.ai
Fusing Data Science and Simulation for Understanding Health Care Provision – Hosted by Skip Olson, Novartis
Digital Ecosystem – hosted by Gaurav Dular, Siemens Healthineers
Legal framework for processing data in the healthcare environment – hosted by Christopher Peschel, Siemens Healthineers
How IHE can help sharing medical data – hosted by Eric Poiseau, INRIA
EIT Health Focus Area – Value from data in clinical and subclinical settings - hosted by Jorge Fernández García, EIT Health e.V.
Leveraging Speech Analysis to Model Neurocognitive Disorders - Applications for Frontline Screening and Professional Diagnosis Support - hosted by Johannes Tröger, German Research Center for Artificial Intelligence (DFKI), CLC Germany

16:30-17:00 Report back (max. 2 minutes per group), summary and take home messages
All moderators & Prof. Dr. med. Jochen Klucken, University Hospital Erlangen
17:00 - 18:00 Networking Drinks
The event will be moderated by Prof. Dr. med. Jochen Klucken, University Hospital Erlangen