Sales Have Ended
Ticket sales have ended
You Claimed your ticket, great! You will receive it via Email. We are looking forward to meeting you in person on September 27th in Berlin. In the mean time, check out our Linked-In group and check out our website: https://www.linkedin.com/company/purpose-way/ http://purposeway.nl/
Event Information
Location
Ritter Butzke
Ritterstraße 26
10969 Berlin
Germany
Sales Have Ended
Ticket sales have ended
You Claimed your ticket, great! You will receive it via Email. We are looking forward to meeting you in person on September 27th in Berlin. In the mean time, check out our Linked-In group and check out our website: https://www.linkedin.com/company/purpose-way/ http://purposeway.nl/
Purpose Day unites people striving for a purpose-driven economy and society, by integrating purpose in the core of their organizations
About this event
W H A T
Purpose Day is a one day conference with the intention of creating a space to share experiences, connect like-minded leaders and organizations, and co-create initiatives that help speed up the integration of purpose in business.
W H Y
Having a strong sense of purpose in business can result in a 35% increase in success, but 80% of leaders are yet to lead from this viewpoint
Purpose is about doing business beyond your own benefits, it is about the goals you want to achieve with your organization as a contribution to society. Purpose provides meaning and serves as an anchor point for organizations and individuals in transformation. Purpose Day aims to unite people who are striving for a purpose-driven economy and society, starting by integrating purpose in the core of their organizations.
CEO´s are starting to recognize the importance of Purpose - Like Paul Polman at Unilever
Also 93% of the fast-growing Gen Z workforce cite purpose as the most relevant criteria for choosing a job
Who are you going to experience on Purpose Day 2019 in Berlin?
Ynzo van Zanten, Chief Evangelist from the Dutch Tony's Chocolonely comes to tell the story of more than just chocolate.
Olga Gerashchenko from Weleda takes us into the culture of a company that never sits still and always wants better.
One of the Einhorn founders, Waldemar, will inspire us with learnings of his journey with Einhorn and challenge us to follow and support him in his purpose.
Michael Wolf and Katharina Daniels from Authentisch Anders, will talk about the purpose journey at Gutmann Aluminium Draht.
We also have Kentholz, Kiezbett and many more.
In addition we have many workshops and possibilities to get inspired by and connected with purpose driven people.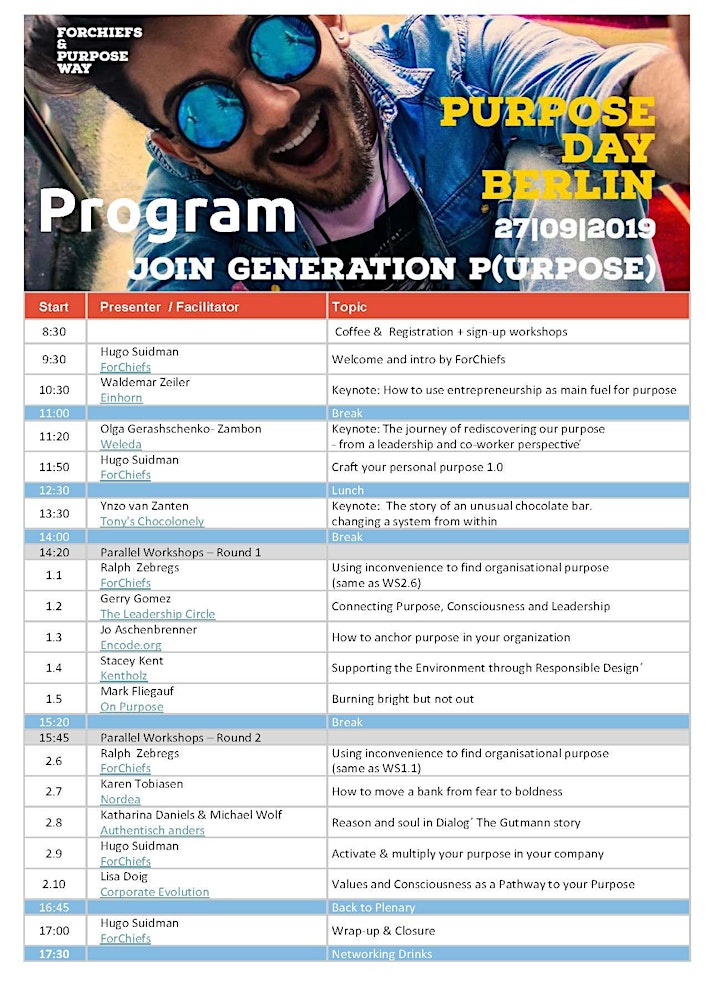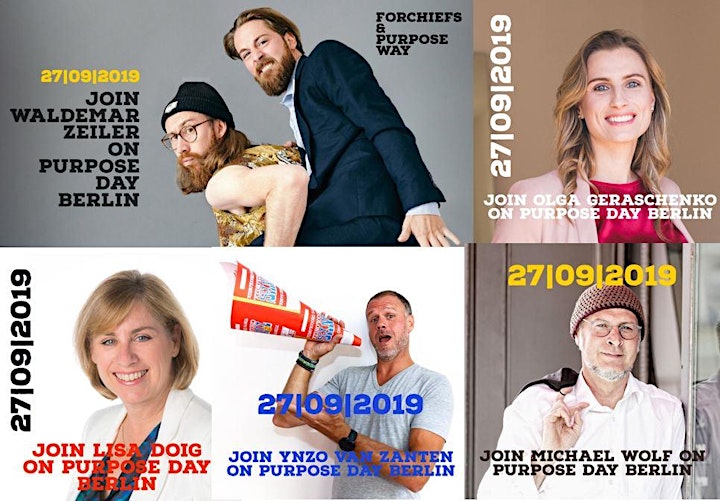 Date and time
Location
Ritter Butzke
Ritterstraße 26
10969 Berlin
Germany