#play14 is an international gathering of like-minded people who share the common idea that playing is the best way to learn and understand!
About this event
#play14 is an international gathering of like-minded people who share the common idea that playing is the best way to learn and understand!
For two and a half days, people with many different profiles and experiences are invited to share serious games & fun activities, experiences & tips, knowledge & insights, laughts & smiles. Everyone is welcome to join.
A proposed activity could be a lot of things, like
a serious game, e.g. the Ball Point Game, The Maze or The Kanban Pizza Game, Calculator Game, Commuter Game, Change Game, Magic Pencil Game, Escape the BOOM,
facilitation techniques,
debriefing techniques, e.g. #TheDebriefingCube,
the LEGO® SERIOUS PLAY® method and materials,
sketching or doodling together,
a question or challenge for which you need a solution,
dancing, laughing and singing together,
inventing a new game together,
a 1-on-1 coaching session,
improv theater,
yoga, tai chi and other mindfulness techniques,
a soul searching or deep-dive introspection
and many more activities our community brings to the event.
It could be pretty much anything as long as it respects our Manifesto.
Join us in order to develop your facilitation skills, increase your ability to accompany change in your organization, foster your creativity and improve your capacity to innovate.
#play14 is an unconference, where all attendees are also contributors. All you need to do is show up, and you will be given the opportunity to propose some games, or play the games proposed by the others.
Not sure yet? Here are some great impressions from our #play14 in Berlin and from our friends in London. You can have a look at more pictures of #play14 Berlin in our gallery: https://bit.ly/2Nfhfjk.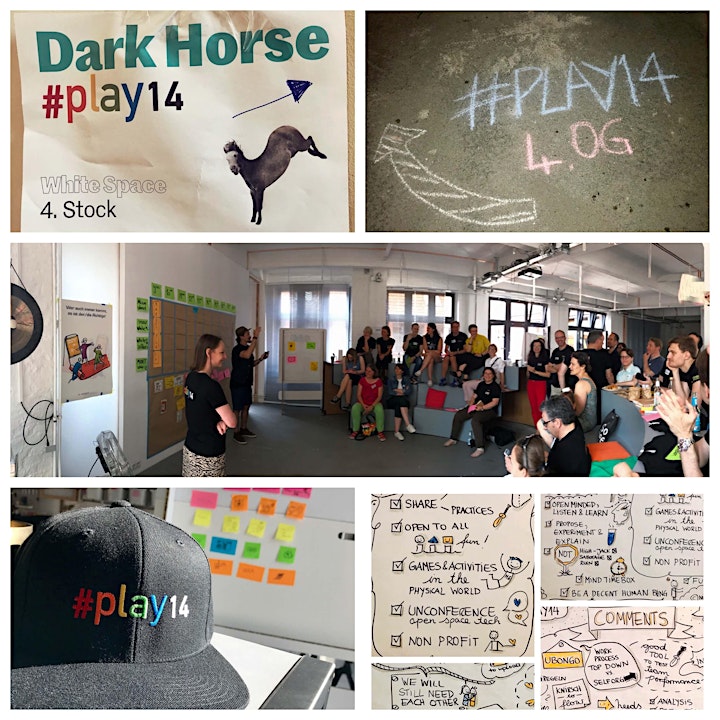 For our #play14 events around the globe, we are using the Open Space Technology. Have a look at this video for a first introduction:
Be part of #play14 Berlin! The #play14 community, our sponsors and the organizing team are looking forward to welcoming you!

Organizer of #play14 Berlin 2022
Julian Kea ist Serious Games Facilitator, Berater und Coach aus Berlin. Als Experiential Learning Enthusiast glaubt er an die Kraft der Co-Kreation und hochgradig interaktiver Lernansätze. Zu seinem Handwerkszeug gehören interaktive Moderationstechniken, feedback-gesteuerte Lern- und Change-Management-Ansätze, Empathie und eine gesunde Portion Selbstwahrnehmung. Sein Hintergrund in Betriebswirtschaft und im Bildungswesen befähigt ihn, Räume zu gestalten und zu halten, in denen die Teilnehmer authentisch Ideen austauschen, gegenseitiges Verständnis entwickeln und die Zusammenarbeit stärken können.
Julian ist die Stimme hinter dem #SeriousGamesPodcast, hat den Training from the BACK of the Room Online-Kurs und den #TheDebriefingCube mitentwickelt und veranstaltet das #LSPmeetup und die Unkonferenz #play14 in Berlin. Auf Twitter ist er unter @kiLearning zu finden.