Description
Notiere dir den 13. April 2019. Denn der persist* Careers Summit geht in die dritte Runde und wir können es kaum erwarten, gemeinsam mit dir alternative Karrierewege mit positivem Impact zu entdecken. Der persist* Careers Summit ist die Konferenz für dich und deine berufliche Zukunft. Wie jedes Jahr werden wir auch dieses Jahr wieder bei der ESCP Business School in Charlottenburg sein.
In mehreren Räumen gibt es den ganzen Tag lang eine Karrieremesse und ein Programm aus Keynotes, Impulsen, Panels und Workshops. Du hast Zugang zu vielen interessanten Ausstellern aus dem sozialen oder nachhaltigen Bereich und findest vielleicht sogar deinen Traumjob.
Als Austeller sind unter anderem folgende Organisationen/ Unternehmen dabei: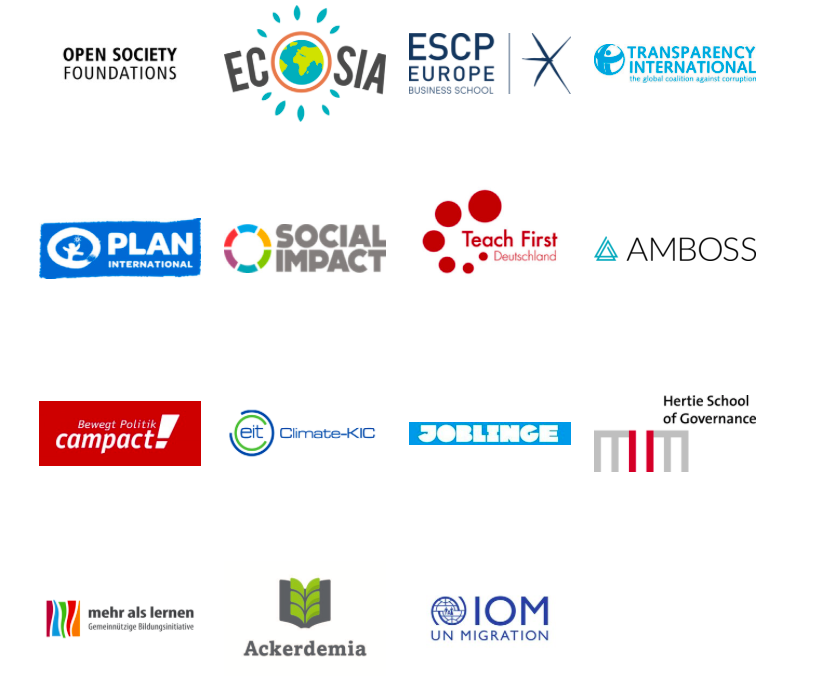 Beim persist* Careers Summit bringt das tbd* Team 1000 Gäste und zahlreiche, spannende Speaker*innen in Berlin zusammen. Wir alle möchten mit dir zusammen die Karrierewege der Zukunft erkunden.
Mit Ecosia haben wir einen wunderbaren Partner gefunden, die nicht nur Teil des Programms sein werden, sondern vor allem für jedes verkaufte Ticket einen Baum pflanzen werden! Also tust du sogar beim Kauf deines Tickets noch etwas Gutes für die Umwelt.
Und unser Partner Open Society Foundations ist ebenfalls dabei. Die Organisation von George Soros zieht gerade nach Berlin und es wird viele Stellen geben!
Zwei unserer Keynotes stehen auch bereits fest. Goran Buldioski ist Co-Direktor der Open Society Initiative for Europe und wird erzählen, warum die von Georg Soros gegründete Organisation Open Society Foundations nach Berlin zieht. Und Markus Wörner inspiriert mit seinem Jobwechsel zu einem der bekanntesten Social Businesses Einhorn.
Wenn auch du auf der Suche nach deinem Traumjob mit Sinn bist, dann sichere dir jetzt ein Ticket für den persist* Careers Summit 2019!
Wenn du mit deinem Unternehmen/ deiner Organisation dabei sein möchtest, dann melde dich bei persist@tbd.community
Wir halten dich auf dem Laufenden. Schaue dafür gerne hier vorbei.
Organiser of persist* Careers Summit 2019
TBD* UNTERSTÜTZT ALLE, DIE MIT WELTVERBESSERN KARRIERE MACHEN.
Wir sind ein digitales Zuhause, in dem Menschen wie du einen Job finden, das richtige Team rekrutieren, Workshops und Kurse entdecken, über Finanzierungsmöglichkeiten erfahren, sich mit Unternehmen verbinden, Best-Practices teilen und von anderen lernen können, die ebenfalls mit Weltverbessern Karriere machen.
"tbd" steht im Englischen für "To Be Determined". Das bedeutet, dass etwas noch nicht festgelegt ist. So sehen wir unsere Welt und unsere Zukunft aktuell. Vieles offen, vieles unsicher, vieles beängstigend. Es kann aber auch wörtlich als "wild entschlossen sein" übersetzt werden. Und wilde Entschlossenheit ist genau die Errungenschaft, die wir benötigen, um diese Unsicherheit zu bewältigen. Gemeinsam und mit viel Mut. Und dafür stehen wir. Dafür steht tbd*.