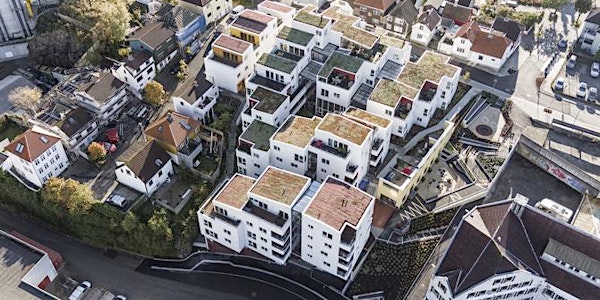 Oslo Architecture Triennale: Mission Neighbourhood– (Re)forming communities
Location
ANCB The Aedes Metropolitan Laboratory
Christinenstraße 18-19
10119 Berlin
Germany
An ANCB Lab Talk to introduce and discuss the Oslo Architecture Triennale's "Mission Neighbourhood".
About this event
More info: www.ancb.de
Format: The English-language event will take place on site. Admittance is free.
Hygiene Protocol: An FFP2 mask must be worn during the event.
Oslo Architecture Triennale's Director and Chief Curator Christian Pagh will discuss with Berlin-based architects Markus Bader and Jan Liesegang from raumlabor and Sabine Müller from SMAQ, about approaches to create more diverse, sustainable and thriving neighbourhoods.
The neighbourhood is where people live their individual lives, but also come together as communities. The everyday places we share with one another are all sites of (social) potential. The dialogue between the Triennale's curator and actors from Berlin will explore how urban form and community life relate to one another. How can we understand and connect physical and social infrastructure? How do we mediate top-down and bottom-up resources? How do we engage and mobilise communities? What role can festivals and events play? And, speaking from the perspectives of Berlin and Oslo, how can we build neighbourhoods that are more inclusive, diverse and resilient – offering alternatives to the strong powers of gentrification?
PROGRAMME
Welcome
Dunya Bouchi, Managing Director, ANCB The Aedes Metropolitan Laboratory, Berlin
Presentation
Christian Pagh, Director and Chief Curator, Oslo Architecture Triennale
Dialogue
Markus Bader, Architect, raumlabor, Berlin
Jan Liesegang, Architect, raumlabor, Berlin
Sabine Müller, Architect and urban designer, co-founder and principal of SMAQ, Professor of Urbanism at The Oslo School of Architecture and Design
Christian Pagh, Director and Chief Curator, Oslo Architecture Triennale
Q&A with the audience
followed by reception
ABOUT OSLO ARCHITECTURE TRIENNALE
The Oslo Architecture Triennale is an international architecture festival and arena for exploration, development and dissemination of architecture and urban development. This year's Triennale, opening on 21 September, spotlights neighbourhood as a place and horizon for rethinking our cities, exploring how we form the places we share.
This Lab Talk is generously supported by the Royal Norwegian Embassy Berlin.