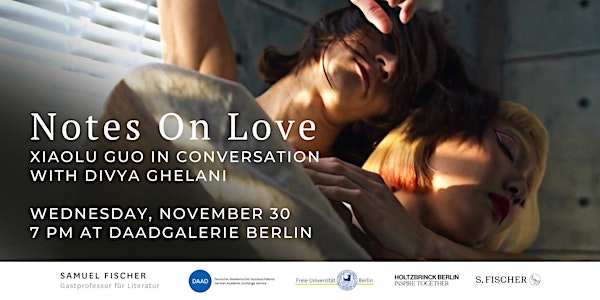 Notes On Love: A Conversation with Xiaolu Guo.
SFischerProf Xiaolu Guo 郭小櫓 in conversation with Divya Ghelani
When and where
Location
daadgalerie Oranienstraße 161 10969 Berlin Germany
About this event
Xiaolu Guo 郭小櫓 is a British-Chinese novelist, memoirist and filmmaker. She was born in China in 1973 and received a Master's Degree in Art from the Beijing Film Academy. In 2003 she studied at the National Film & TV School in the UK. Xiaolu has published several novels, short story collections and two memoirs with Penguin Random House. Her most recent publication is the novel A Lover's Discourse (2020) which was shortlisted for the Goldsmiths Prize 2020. She also directed a dozen films including UFO in Her Eyes (2010), and She, A Chinese (2009) and had her film retrospectives around the world. She is a fellow of the Royal Society of Literature and currently the Samuel Fischer guest professor for Literature at Freie Universität Berlin.
Divya Ghelani is a British writer who holds an MA in Creative Writing from the University of East Anglia and an MPhil in Literary Studies from the University of Hong Kong. She has published articles/short stories in Wasafiri, BareLit, BBC Radio 4, Litro, Comma Press, and more. Her novel in progress has been longlisted and shortlisted for four literary awards. Divya lives in Berlin where she leads a BIPOC Reading Series for The Reader Berlin and co-hosts a short story club for the UK's leading literary salon, the Word Factory.
On Wednesday, November 30, Xiaolu Guo and Divya Ghelani discuss craft, language, humour, and home in Guo's novels and share personal experiences as writers. Conversation in English at daadgalerie Berlin.
This reading is presented by the Samuel Fischer Guest Professorship for Literature in cooperation with the daadgalerie Berlin. Partners of #sfischerprof are Freie Universität Berlin, the German Academic Exchange Service (DAAD), S. Fischer and Holtzbrinck Berlin – Inspire Together.