Dieses Event ist beendet.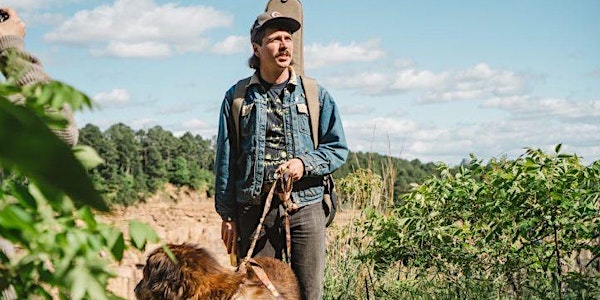 Nick Shoulders
OKAY, CRAWDAD EU TOUR 2021 support: Robyn G Shiels
Zeit und Ort
Veranstaltungsort
Badehaus Berlin Revaler Strasse 99 auf dem RAW-Gelände 10245 Berlin Germany
Karte und Wegbeschreibung
Rückerstattungsrichtlinie
Zu diesem Event
Nick Shoulders OKAY, CRAWDAD EU TOUR 2021
support: Robyn G Shiels
With music featured in a CR Fashion short film starring Kim Kardashian, Cher and Naomi Campbell as well as the 2020 independent film 'One of These Days'.
Here to put the "Try" in country, Nick Shoulders and the gang bring you 'Okay, Crawdad.", the fledgling full length album by the New Orleans based ethereal honky tonkers, recorded live to tape and firmly below sea level. Wielding a distinct warbling yodel and masterful whistle crafted from a lifetime chasing lizards through the Ozark hills, Nick combines his family's deep ties to southern traditional music with years singing to empty street corners to create this hybridized form of raucous country music: born of some dark holler, yet bred to be sweated out and stomped into the New Orleans dancefloors it now calls home. A cry out against the withering void of listless Americana, 'Okay, Crawdad.' is a two-step laden dose of indignation, loss and profound elation; inspired as much by the chaos and decadence of south Louisiana as it is the rural sounds of yesteryear from which it sprang. Embracing the mania of the podunk zeitgeist, Nick Shoulders is a compulsive crooner and working illustrator with a voice shaped by echoes off of rocky forgotten places; but a wit honed by the strained reality of the 21st century South. 'Okay, Crawdad." is the country record you never knew you needed.
Recorded by Ross Farbe, mastered by Timothy Stollenwerk, cover art by Nick Shoulders.
From Anti-Gravity Magazine (New Orleans):
"In a time when embarrassing inaccuracy is a trend in the Americana genre, Shoulders is a welcome relief, with his ability to properly rectify old country."
-Danielle Dietze
From Saving Country Music:
"It is not a spurious notion to consider Nick Shoulders one of the most unique and gifted vocal acrobats of roots music from this generation or any other. The splendid highlonesome yodels, the exquisite whistling, the occasional run on the throat trumpet, or just the timbre of his voice when he's singing straight with no frills is something that immediately sets him off against the weary peloton of average performers. With range, control, and confidence, Shoulders can sing whatever he wants, however he wants, and does"-Kyle Trigger
From Kulture News (Germany)
"With his 2018 EP "Lonely like me", Nick Shoulders proved two things: That he probably has the best voice of the already great New Orleans Alt-Country-Scene, and that he is very adept at distilling his broad range of influences in his own brand of rumbly, anachronistic DIY-Honkytonk. His inspired songwriting, a fully formed and distinct musical identity and his golden voice cement him as one of the most interesting contemporary country artists."-Jonah Lara