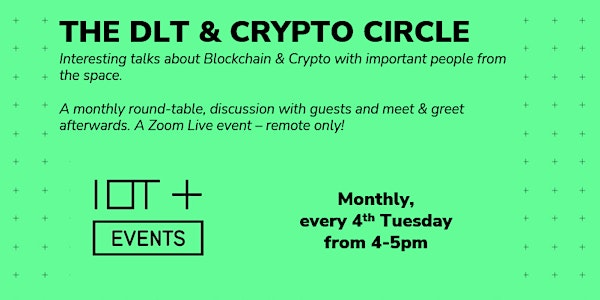 Mehrere Termine
Monthly DLT & Crypto Circle - a round-table talk with interesting guests
Monthly round table with selected personalities of the DLT / Blockchain & Crypto Space for an exchange of experiences.
Datum und Uhrzeit
Mi., 23. Feb. 2022 07:00 - Di., 23. Jan. 2024 08:00 PST
Zu diesem Event
What is it?
The IoT + Network has founded a new discussion format - a newly founded discussion circle based in Berlin, based on two things:
1. Berlin has developed into a Blockchain hub internationally - new business models, new start-ups, financed from Tokens or VCs
2. In the German Economy, DLT & Crypto is picking up speed - more and more business cases emerging, even there's still a lot of upward potential - at the moment Crypto is way ahead of DLT Though
The monthly round-table talk acts
Who takes part?
A select group of experts, opinion leaders and decision-makers – INVITE ONLY. If you have been selected, you'll be invited to monthly discussions.
You want to get an invite? Use the contact form at the end of the page.
When?
Every 4th Tuesday in the month, 4-5pm CET.
How?
Currently VIRTUAL ONLY – in Zoom. We'll start blended modus possibly soon and maybe change towards meeting based experience-shares soon also.
Why?
As participant: Expanding your network in the field of DLT & Crypto, exchanging experiences, learning, growing, doing business, promoting your career.
As group: To foster the adoption of DLT/Crypto in companies in Germany and Europe.
Who is behind it?
The organizers are the IoT + Network from Berlin and its DLT & Crypto Circle Leader Arne Flick.
About IoT +: Commissioned by the Federal Ministry of Economics and Climate Protection (BMWK) the "IoT + Network" is representing the Berlin part of the DE:Hub Initiative, spanning across all mayor cities in German, fostering Digital Innovation in germany.
The IoT+Network connects German corporates with new innovation partners from science and the start-up scene in Berlin.
About Arne Flick: As CEO of the IoT ONE Academy, Arne is an active member of the DLT & Crypto space in Berlin and, among other things, is also a Digital Learning Provider of the IOTA Foundation. His expertise covers applications from 1st-3rd generations of DLTs & Crypto Application within Industrial IoT to a broader understanding of Deep Tech for the Neue Industry 4.0.
Über den Veranstalter
The IOT ONE ACADEMY is a digital campus for corporate education of employees in the field of Industrial Internet of Things (IIoT), also called Industry 4.0 in Germany.
The goal of the particularly practice-oriented, digital academy is to support large companies in modernizing parts of their production and administration with the latest IoT-Technologies.
The IOT ONE ACADEMY uses the latest didactic, app-based methods to enable particularly sustainable learning and a high level of learning transfer.