Dieses Event ist beendet.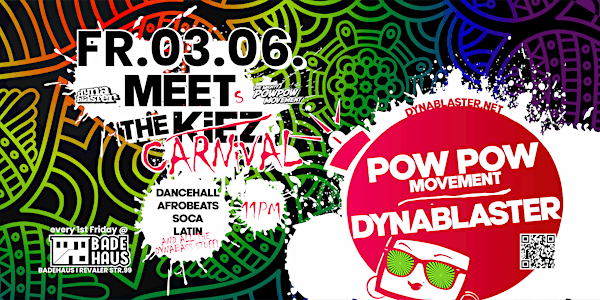 MEET THE CARNIVAL - POW POW MOVEMENT (Köln)
MEET THE CARNIVAL - POW POW MOVEMENT(Köln) ls. DYNABLASTER (Bielefeld/Berlin) Afrobeats, Dancehall, Reggae, Club Vibez
Zeit und Ort
Veranstaltungsort
Badehaus Berlin Revaler Strasse 99 10245 Berlin Germany
Karte und Wegbeschreibung
Rückerstattungsrichtlinie
Kontaktieren Sie den Veranstalter, um eine Rückerstattung anzufordern.
Zu diesem Event
•••• DYNABLASTER PRESENTS ••••
* MEET THE CARNIVAL *
* BADEHAUS - BERLIN *
⏰FR. 03.06.2022
🎉Pow Pow Movement (Köln)🎉
🎉Dynablaster (Berlin/Bielefeld)🎉
Wer erinnert sich nicht an die legendären KDK-Abrisspartys, als die Jungs vom PowPow Movement und Dynablaster die Tanzfläche in Brand 🔥gesetzt haben, die Feuerzeuge schneller leer waren als der Rum🍹, die Arme vor lauter Hochreißen🙆‍♀️ schon taub waren und die Kehle schmerzte vom "Pull Uuuup!" schreien💬📢???
3 Jahre Abstinenz sind genug!😷
…hat sich Dynablaster gesagt und, haltet Euch fest... Pow Pow Movement zu sich ins "Wohnzimmer", das Badehaus Berlin, eingeladen!🤯
Zum Berliner Carnival kommt es also endlich zur Wiedervereinigung 🤝von Dynablaster und PowPow! Bester Dancehall, Afrobeats, Dynabass und Urban Clubriss garantiert!
…PS: Wer sich erinnert, war nicht dabei 🤔🤭🤣
Who doesn't remember the legendary KDK demolition parties when the guys from the PowPow Movement (Cologne) and Dynablaster set the dance floor on fire 🔥, the lighters were empty faster than the rum 🍹, your arms were already numb from pulling them up 🙆‍♀️ and your throat hurt from the "Puuull Uuuup!" scream💬📢???
3 years abstinence is enough!😷
...Dynablaster said to himself and, hold on tight... Pow Pow Movement invited to his "living room", the Badehaus Berlin!🤯
At the Berlin Carnival, Dynablaster and PowPow will finally be reunited 🤝! Best Dancehall, Afrobeats, Dynabass and Urban Clubmadness guaranteed!
...PS: If you remember, you weren't there 🤔🤭
♫ PowPow Movement (Köln)
http://www.facebook.com/powpowmovement?ref=ts&fref=ts
http://www.powpow.de/
♫ Dynablaster (Bielefeld / Berlin)
http://www.facebook.com/Dynablaster?ref=ts&fref=ts
www.dynablaster.net