Dieses Event ist beendet.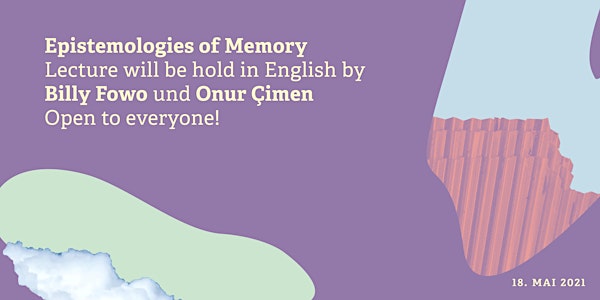 Lecture: Epistemologies of Memory
Lecture will be held in English by Billy Fowo und Onur Çimen. Open to everyone. / Die Veranstaltung wird auf Englisch stattfinden.
Zu diesem Event
About the talk
SAVVY Contemporary | The laboratory of form-ideas is an art space, platform for discourses, meeting place for good conversations, food and drinks - a place of shared hospitality. It is located on the threshold between concepts of the West and non-West in order to understand and deconstruct them. It has carried out a variety of projects - exhibitions, performances, film screenings, lectures, concerts, readings, discussions, dance. SAVVY Contemporary has built a participatory archive for German colonial history, a documentation centre for performance art, a library and a residency programme. The art space cooperates with schools in educational projects and deals with the history and socio-political realities of its neighbourhood, which are closely interwoven with the project's considerations and discourses.
Deriving from this conceptualization, the talk will open with a presentation of Edouard Glissant's theory "du gouffre". During this part of the talk we will try to understand and analyze the notion of "gouffre" as the foundation of Glissant's work, and also the way it relates and expands to his other theories and the way he perceived and sensed the world from the Carribean. The second part of the talk will focus on the necessity of multitude of epistemologies, the grounds of any discussion on diversity itself, rather than taking a fixed focal point that one can attain meaning. For this, it will engage with silences and vulnerable archives as sources of knowledge(s), which carries the potential to nourish a variety of subjects and of discourses.
BIOs
Billy Fowo (1996, Yaounde) studies African Art History at the Freie Universität Berlin. He moved to Berlin three years ago and alternates between his studies and SAVVY Contemporary where he is currently a member and works as an assistant curator. Big amateur of photography, he recently picked up the habit of wandering through the streets of Berlin and capturing moments across the known / less known, cool / less cool areas of the city. He is also a poet and through his writings, he tries to critically engage with the etymology, use of certain words and the context related to it, and propose alternative ways of thinking languages.
Onur Çimen (1992, İstanbul) studied philosophy at Middle East Technical University. After graduating, he worked in Flying Broom Women's Film Festival and Pink Life QueerFest as editor, programmer, and co-coordinator. He translated two books and several articles into Turkish on queer theory and culture, cinema, and art. His writings are published on ArtUnlimited and Sanat Dünyamız. As the editor and translator, he self-published i will not have a moment of silence - collected writings of trans-activist Gani-Meth - and co-edited Oracular Visions, In the Darkness of the Night, published by Stockholm University. He is currently a member of SAVVY Contemporary in Berlin, where he assists and co-curates exhibitions. He recently graduated from MA in Curating Art, Stockholm University.
Die Veranstaltung findet online statt, die Bild- und Tonaufzeichnung ist nicht gestattet.