Dieses Event ist beendet.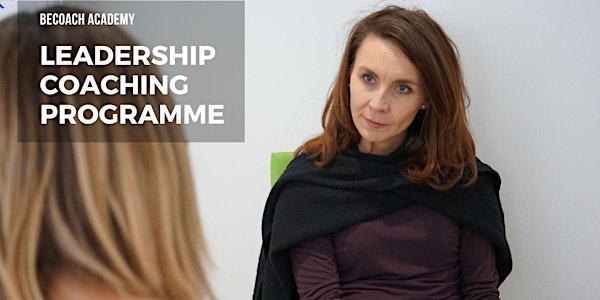 Leadership Coaching Programme
Learn leadership coaching to support leaders create their authentic leadership style and develop the leadership competencies!
Zeit und Ort
Veranstaltungsort
Ankündigung folgt
Rückerstattungsrichtlinie
Rückerstattungen bis zu 1 Tag vor dem Event
Zu diesem Event
The benefit of coaching in the development of a leader is unquestionable! Any leader if they are serious about their personal success or that of their team or organisation, needs to have a person at their side, who is a sounding-board, a challenger and an awareness-raiser - A Coach!
More and more companies and individuals view coaching as providing a competitive advantage to both the individual and the company by creating an outstanding leadership competence.
You can become one of those coaches who can support leaders in creating their authentic leadership style and developing the leadership competencies, which are so much needed in the modern business environment and in the world.
This 2-day Leadership Coaching Programme is for:
Coaches who want to enrich their coaching expertise
HR professionals who want to support leaders in their development
Leaders who want to develop personal leadership competencies of their team members
Programme outline
In this programme we will cover:
Core Leadership Competencies
7 Levels of Leadership - Coaching at different levels
Values in Leadership
Fearless Leadership
Leadership and trust
Coaching Leadership challenges
Coaching within Situational Leadership Model
As a result of the programme, you will:
✓Have a greater understanding of the core leadership competencies and will learn how to coach leaders, supporting them in their development.
✓Learn how to raise awareness of leaders around their values, beliefs and behaviours.
✓Learn what it means to be a fearless leader and how to coach leaders towards creating an environment of courage, growth and trust.
✓Gain a deeper understanding of leadership challenges and learn how to support leaders in overcoming those challenges and learning from them.
✓Learn how to coach leaders with different leadership styles and in different situations.
We also have a gift for you:
In this workshop we use Leadership Values and Competencies cards. As a participant you will be leaving the workshop with your own set of cards which you can use with your coaching clients.
This is what one of our previous participants said about the programme:
I made the right decision!
The programme has exceeded my expectations. I have acquired a great deal of techniques and better understanding of potential challenges a leader may face and the corresponding tools how to tackle them as a coach. The program contained a lot of interactive exercises and practical examples and we enjoyed a very collaborative and open atmosphere.
I've left the Leadership Coaching Programme offered by BeCoach Academy with a deep feeling of having made the right decision and the right investment and I can strongly recommend it to anyone who'd like to grow and develop new skills in this area.
Viara Richter
Trainer,Facilitator, Expat Career Coach
Your Trainer
Elena Marsh
Elena Marsh is a Leadership Transformation Coach (ACC) with more than 10 year of coaching experience and professional certifications in Personal Performance Coaching, Corporate Executive Coaching and Evolutionary Coaching.
Looking forward to welcoming you in the Leadership Coaching Programme!