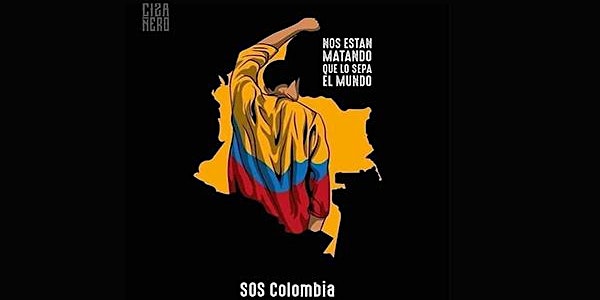 Kolumbien:Friedensvertrag, Freude, gar kein Kuchen?The National Strike 2021
Kolumbien: Friedensvertrag, Freude, gar kein Kuchen? - A Lecture Series by Lawyers Whitout Borders at the LMU Munich
About this event
The third lecture in a nutshell
Focus: The National Strike 2021
When? On Wednesday, May 4th 2022 at 7:00 pm (Berlin) - 12:00 pm (Bogotá)
Who?
Natalia Zapata - Journalist
Robinson Andres Quintero Morales - First Aid Assistant during the protests
Santiago Alberto Vargas Niño - Former lecturer and expert of the JEP and lawyer with focus on international law
Where? On Zoom (Link after registration)
If you wish, you can also register (upper right corner) and receive a free online ticket with all the information by email (zoom link, calendar entry, confirmation of participation, reminder email and QR code).
If you have any questions, please contact the events department: lwob.Imu@gmail.com
The lecture series at a glance
February: First event - The Peace Process
March: Second event - The implementation of the Peace Treaty using the example of the JEP
April: Third event - The implementation of the Peace Treaty and its consequences for present and future Colombia - protests in 2019 and 2021
The lecture series in depth
The LWOB Events Department team is very pleased to present the first LWOB Lecture Series.
The focus: "Colombia". A country that, despite having a long and ambitious peace treaty, has been walking a rather rocky and not exactly easy path towards the long-awaited peace, since the end of the peace negotiations.
We are looking forward to three lectures, which will take place in monthly intervals and offer an interesting and exciting programme with guests from Colombia, such as journalists, professors, activists and foundation representatives.
A detailed blog post by Julia Nassl on the Colombian peace process can be found here (German).