Dieses Event ist beendet.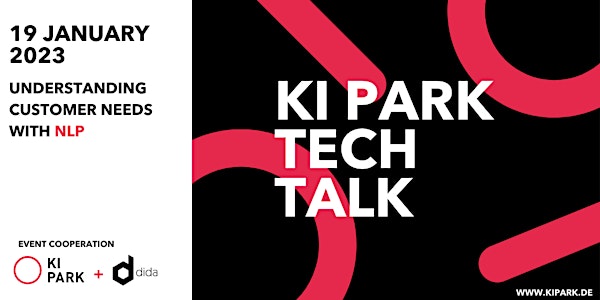 KI Park Tech Talk by dida: Understanding Customer Needs with NLP
KI Park Tech Talk: Understanding Customer Needs with NLP
Zu diesem Event
Our upcoming Tech Talk is dedicated to the topic of Understanding Customer Needs with NLP.
Most people dislike being limited to predefined options e.g. when entering information in online services and want to be able to input text in their own words.
However most data processing still relies on structured data. Luckily, recent progress in the field of Natural Language Processing allows us to replace predefined options with free-form text input.
In this Tech Talk Angela Maennel, Machine Learning Scientist at dida will present a use case she at dida worked on for a mobile vet service called felmo.
Using their approach enabled the customer to structure appointments more efficiently while ensuring customer satisfaction and engagement. She will show how this omnipresent challenge can be addressed by leveraging the popular Sentence Bert architecture.
ABOUT our member and partner dida
dida Machine Learning is a berlin-based machine learning specialist organisation consisting of 30+ mathematicians and physicists, that provides the ultimate in individual ML solutions.
The goal of dida Machine Learning is always to bring the latest scientific findings into successful, live applications that have a significant and positive impact.
👉 Through combining the latest deep learning algorithms, mathematical and scientific approaches, as well as creativity, dida Machine Learning innovates cutting-edge ML solutions.👉 dida Machine Learning is regularly awarded by the world's most renowned AI institutions, such as the 'AI Award' by Microsoft, and the 'Best Paper' Award by ICML.
👉 A holistic approach: At the core of dida Machine Learning is the belief that profound, detailed knowledge and mathematical analysis is required to solve machine learning challenges.
dida Machine Learning utilizes the latest findings of AI research to improve industrial projects and overcomes the "gap" between proofs-of-concept and production software (so-called "proof-of-concept gap").
dida Machine Learning joined the KI Park e.V. to advance artificial intelligence in Germany, and, together with partners from industry and society, to help shape the future of European AI.
If you would like to learn more about dida Machine Learning, visit them at 👉 https://dida.do