Sales Have Ended
Registrations are closed
Achievement Unlocked! See you soon!
Sales Have Ended
Registrations are closed
Achievement Unlocked! See you soon!
Description
The Intel® Buzz Workshop is a one day event focusing on tech and content trends in the games industry. Experts from design, engineering and marketing discuss and present their perspectives on the current state and next developments. It includes business, technical and VR sessions as well as debates on diversity, networking, the opportunity to get feedback from Intel Experts, plus a chance to feature games in a selected (indie) games expo. The day is closed with an informal get together including free snacks and drinks! The event is free to attend.
Target groups:
Game developers, game designers, engineers, hardware hackers, students and the rest of the games industry.

Interested in exhibiting your game? Submit here.
The Intel® Buzz Workshop Series started in 2013 with a focus on bringing local game developer communities together to address the game industry's biggest challenges in gaming. The one-day event includes technical sessions, panels, networking, and the opportunity to troubleshoot your creations with Intel experts.
Brought to you by:

Highlighted Speakers: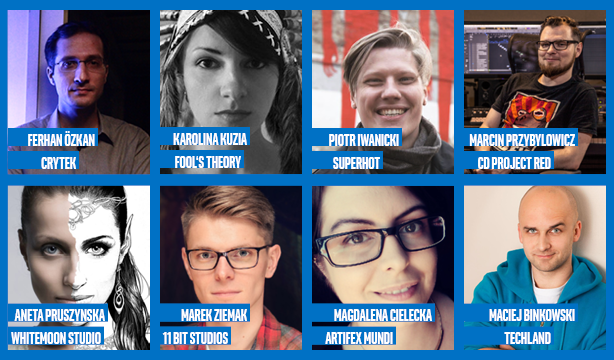 PROGRAMM:
9:30.....Doors
10:30...Welcome + Opening
Trends and Technologies
10:45...Content is King, Performance is Queen: The Today and Tomorrow of Games (Panel)
11:30...Interactive game user interfaces with Intel RealSense
VR Presentations
12:15...Chernobyl VR Project – what we've learned making a unique interactive documentary
...Wrath of Loki - How to change VR challenges into opportunities with a few simple tricks
...Expectations vs. (Virtual) Reality

13:00...Lunch Break
13:50...Developer Buzz
14:15...Evaluating Pipeline Hotspots with Intel® Graphic Performance Analyzer
Business and Financing
14:50...Company structures: How I got where I am - fails, success stories, learnings, recommendations
...We are still here! Lessons learned from 3 year lean startup
15:55...Publisher Presentations and Q&A

Development and Production
16:55...Small devs entering the game industry. Short story of WhiteMoon launching its first title.
...Beyond visuals: aesthetics of gameplay mechanics
...Programmer - Designer cooperation within strongly story-driven project
...THE PATIENT IS STILL ALIVE - a couple of insights and outtakes from RUINER operating room
...How Creating the Musical Identity Can Help Your Game

18:00...Closing Notes + Thank you
22:00...Finally Beer, Snacks + Expo Time
End of Event
In partnership with:

About the Venue:
The Institute of Industrial Design is located directly next to the center of Warsaw old town (stare miasto). Design plays an important role in improving the companies' competitive position and in that senses helps strengthen ther economy. It is the mission of the institute to promote the effective use of design throughout the Polish businesses and a public sector. It hosts various events in the fields of design, innovation, technology and policy influence. The event locations are equipped with all we need to run an amazing Intel Buzz Workshop! Achievement Unlocked!
http://www.iwp.com.pl/
Where to stay:
Still looking for a place to stay? We can help you. Have a look on our HotelMap for the Intel Buzz Workshop Warszawa and find your temporary home.
*****
Organized by Booster Space, on behalf of STARK! Marketing.