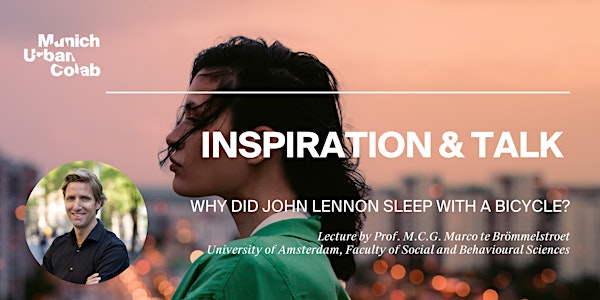 Inspiration & Talk | Why did John Lennon sleep with a bicycle?
Why did John Lennon sleep with a bicycle?
When and where
Location
Munich Urban Colab Freddie-Mercury-Straße 5 80797 München Germany
About this event
Systemic change is enabled or held back by 'deep leverage points'. The underlying values, world views and stories that determine what we do and do not see. As a society, we often take these choices for granted, but they should be subject to robust debate. If we want to take back our streets and reclaim our lives we need to become cognitive lenient.
Lecture by Prof. M.C.G. Marco te Brömmelstroet
University of Amsterdam, Faculty of Social and Behavioural Sciences
____
The new event series "Inspiration & Talk" at the Munich Urban Colab invites trend scouts, thought leaders, sociologists, architects, urban planners, philosophers and artists to discuss current topics concerning the city of the future. After an impulse, a panel discussion will open the dialogue with further experts and the audience. Following the event, we cordially invite you to exchange ideas and network at the get together. The series is curated and moderated by Sabine Hansky.
____
Language: English
Doors open from 18:00
Beginn 18:30
____
For questions please contact Sabine Hansky, Program Director and Expert for Urban Development, Munich Urban Colab
sabine.hansky@munich-urban-colab.com