Dieses Event ist beendet.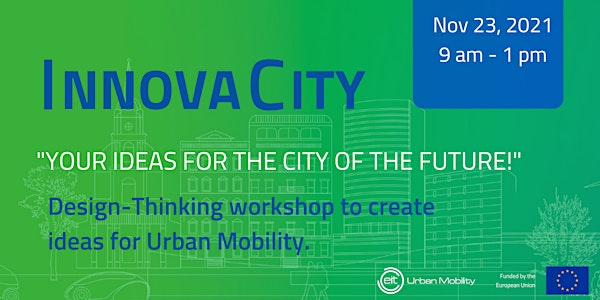 InnovaCity Mobility Design-Thinking Workshop
Join our Design-Thinking Workshop with focus on the ideation process and create actionable solutions for your city of the future!
Zu diesem Event
ABOUT INNOVACITY:
From April to September, we hosted Europe's Largest Mobility Competition with five online design thinking workshops that brought together innovators, entrepreneurs, companies and cities to shape the future of urban mobility. Learn more about InnovaCity here!
After the huge success of the workshops, we offer another 1/2 day InnovaCity workshop, accessible for all interested in urban mobility! Participants will learn the design-thinking method, deep dive into the ideation process and develop actionable solutions for your city of the future, no matter where in Europe!
YOUR KEY BENEFITS
Join us and stamp your mark on the future of urban mobility in Europe!
🌎 Tackle real world challenges
We believe that learning is best when it is applied, therefore we are tackling real challenges.
👩🏼‍🤝‍🧑🏾 Learn user-centred design
Solutions need to be thought for and with the final user in mind - This is why we teach you methods in user-centred design that can be applied to any challenge you might face.
WHO CAN APPLY?
Anyone ...
... with an entrepreneurial mindset
... who wants to shape the future of mobility in Europe
... who has unique skills or experience that will help create mobility solutions
... who is interested in expanding their network.
We welcome:
Entrepreneurs, active in urban mobility
Employees of a city, charged with mobility questions
Employees of a corporate, active in the mobility domain
Students and researchers, eager to solve mobility challenges
Citizens, who want to shape mobility in their own city
We are looking forward to seeing you soon!