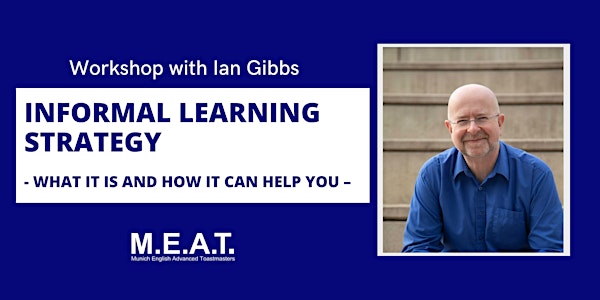 INFORMAL LEARNING STRATEGY - WHAT IT IS AND HOW IT CAN HELP YOU –
Ian Gibbs gives a brief outline of informal learning strategies to help you strengthen your skillset and give added value.
Zu diesem Event
In a forever-changing world, the ability to learn new knowledge and new skills is more important than ever. Unfortunately, our current education system is aimed at getting students to follow instructions and get certificates rather than producing autonomous learners.
New recruits usually receive some sort of prescribed semi-formal training (here's this & do that) but once left on their own, few are aware of how to develop a personal learning strategy to craft their skills for their current jobs or to prepare themselves for the next.
In this talk, Ian Gibbs, gives a brief outline of informal learning strategies to help you strengthen your skillset and give added value.
Key takeaways:
Awareness of informal learning techniques
How to develop a personal learning strategy
How to become more intelligent in 24 hours
Ian Gibbs
With a degree in Astrophysics from St. Andrews, Scotland and a Postgrad in Education from Cambridge, England, Ian Gibbs is the author of 'The Sorites Principle', 'Learning A Language', '23 Tips To Learn Stuff Better', '23 Tips To Get Better Grades' and '4x4 Learning'.
He is the Head of Learning at Advantage Executive Training and the president of the Professional Speakers' Association of Spain. Ian defines Learnability as the capacity to approach, absorb and apply new ideas and skills.
He has helped thousands of people of all ages become more effective learners through workshops and presentations on Learning Skills.
His clients include IESE Business School, ADP, Institut Montgròs, Internations, UP! Training Club, IES Picasso, Col.legi Sagrada Familia, HP Sant Cugat, Smart Coaching & Training as well as many Escola Oficial d'Idiomas throughout Catalonia.
About M.E.A.T. - Munich English Advanced Toastmasters
We are the first Advanced Toastmaster Club in Munich for English speaking Toastmaster members. We are the bridge between the home club and the professional speaking world
Our members are:
valued contributors to the Toastmasters community in Division D and beyond
a handful of mentors who are supportive but also challenge their mentees by pushing them beyond their comfort zone
skilled time managers, bringing to our meetings thoughtful planning and reliable execution
We provide:
Excellent evaluations – as we continuously evaluate our evaluators
Support to our members professionally in preparing presentations and speeches at a professional level
A wide variety of learning opportunities to our members with workshops and special events on rhetorical topics by experienced experts
Join us!
Our club members:
are also members in their respective home club (to avoid "cannibalization"),
have completed either CC or Pathways level 2,
work in Pathways and speak English.
We meet every 1st Saturday of the month from 10:30 to 12:00
And right now we are also meeting at 3rd Saturday of the month.
Datum und Uhrzeit
Veranstaltungsort