Dieses Event ist beendet.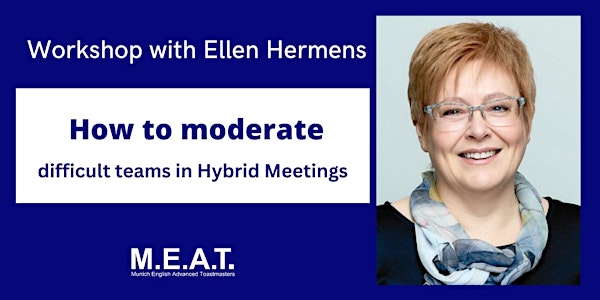 How to Moderate difficult Teams in Hybrid-Meetings
Moderating meetings with challenging team members - Can you handle it? Disturbances in Meetings need to be handled thoroughly...
Zeit und Ort
Veranstaltungsort
New European College GmbH Wolfratshauser Straße 84 81379 München Germany
Karte und Wegbeschreibung
Rückerstattungsrichtlinie
Kontaktieren Sie den Veranstalter, um eine Rückerstattung anzufordern.
Zu diesem Event
Moderating hybrid meetings - are you prepared for the unexpected?
Moderating meetings with challenging team members - can you handle it? Disturbances in meetings need to be handled thoroughly, disturbing team members need to be lead carefully, if you want your meeting to be successful.
The Devil's Facilitation Playground is a special setup to practice moderation skills with a difficult audience.During short prepared sample panel discussions, all participants will experience the effects of disturbing attendees - and see, how our sample moderators try to handle it.After the panel discussions, we will have a big common feedback round, where we can share our experiences:
Which intervention of the moderators did work best? Why?
Which did not work, at all? Why?
In our 2h workshop, we even go one step further and work with a hybrid setup!
This workshop therefore offers both, a room where you can join the workshop in person and an online connection via Zoom, where you can join remotely.
This is a HYBRID-Meeting. You will get a zoom link 1 day before the event.
About Ellen Hermens
As a trainer and coach, she analyzes and communicates the differences between these experiences and how her clients achieve the desired result. In the literature, this type of leadership is called "Agile Employee Leadership" and many techniques and methods are known as Management 3.0.
For years, Ellen Hermens has been coaching and training leaders from business and non-profit organizations in modern, sustainable leadership that motivates teams to lead with ownership at eye level.Her leadership experience comes from over 15 years in leadership roles in an international non-profit organization where the leaders are volunteers who are elected or appointed annually. This already holds an environment in which it is best to motivate team members to act autonomously and self-organized in the spirit of agile leadership. From many conversations and trainings with seasoned leaders from industry, business, and corporations, it is apparent that these experiences are transferable to businesses and government agencies as they address fundamental leadership skills.
She is a founding member of our club and has been active in the Toastmaster organization for many years.
About M.E.A.T. - Munich English Advanced Toastmasters
We are the first Advanced Toastmaster Club in Munich for English speaking Toastmaster members.
Our members are:
valued contributors to the Toastmasters community in Division D and beyond
a handful of mentors who are supportive but also challenge their mentees by pushing them beyond their comfort zone
skilled time managers, bringing to our meetings thoughtful planning and reliable execution
We provide:
Excellent evaluations – as we continuously evaluate our evaluators
Support to our members professionally in preparing presentations and speeches at a professional level
A wide variety of learning opportunities to our members with workshops and special events on rhetorical topics by experienced experts
Join us!
Our club members:
are also members in their respective home club (to avoid "cannibalization"),
have completed either CC or Pathways level 1,
work in Pathways and speak English.
We meet every 1st Saturday of the month from 10:30 to 12:00