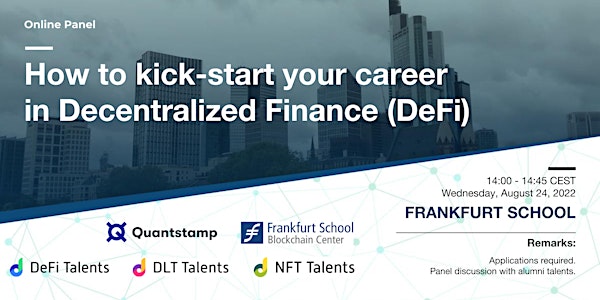 How to kick-start your career in Decentralized Finance (DeFi)
Panel discussion hosted by FS Blockchain Center on "How to kick-start your career in Decentralized Finance"
About this event
Decentralized finance (DeFi) has experienced rapid growth in recent years and has become an important aspect of the blockchain landscape. As a result, DeFi has also opened up many career opportunities. The ever-growing interest in decentralized finance, especially from banks, asset managers, institutional investors, and fintechs, has been one of the main factors behind the rise in demand for DeFi and blockchain positions.
In this panel discussion, we want to answer all your questions about starting a career in DeFi & blockchain. We have invited current and former talents who are currently working in the DeFi and blockchain space. They will give you an insight on what they are currently doing at their company and what skills are required in the blockchain space to get certain jobs. In addition, they will explain how the Talents program helped them to make the jump into DeFi and blockchain and what they learned on their journey.
We will elaborate on questions such as:
When was the first time you heard about blockchain and when did you decide you want to work in the field?
What can someone expect from working in blockchain and DeFi?
What skills are required to work in DeFi? What is your current role and tasks?
Should one go into the blockchain/startup space after university directly?
What tips would you have for people wanting to change career paths to blockchain and DeFi?
How good are the salaries in the space and what are the typical components?
How safe is a job in such a volatile environment?
You will also have the opportunity to ask questions directly to the panelists.
Panelists
Prof. Dr. Philipp Sandner, Frankfurt School Blockchain Center (moderator)
Marcel Grimm, DeFi Talent / LPA
Tony Kim, DeFi Talent / METACO
Benedict Wolff, DeFi Talent / Kasuria
Claudia Offenmüller, DLT Talent / Strategic Future Consulting
Sebastian Banescu, Quantstamp
Location and Date
Location: Online. Details for the live broadcast will be sent to you on the day of the event (no prior software installation is required).
Date: August 24, 2022
Time: 14:00 - 14:45 (CEST)
Language: English
Agenda
14:00 - Welcome and introductory words (Prof. Dr. Philipp Sandner, Frankfurt School Blockchain Center)
14:05 - Introduction of the speakers (Prof. Dr. Philipp Sandner, Frankfurt School Blockchain Center)
14:10 - Start of the panel discussion: How to kick-start your career in DeFi
14:45 - End of online panel
Tickets and registration
Required via Eventbrite; you will receive the URL for the live stream in advance.
Registration closes half an hour before the start of the event.
Who should participate?
DeFi, DLT and NFT talents who wants to start their career in DeFi and blockchain industry
Employees and decision-makers from the financial and capital market industry interested in decentralized finance and changing their current career path
HR from traditional financial institutions and fintechs to understand the best ways to attract the talent of tomorrow
Business or computer science students who want to kick-start their career in an exciting environment
Lawyers and consultants with experience in DeFi who want to focus more on this area
Other groups of people with an interest in capital markets, crypto assets, technology, and digitization
Contact
Frankfurt School Blockchain Center
E-Mail: team@fs-blockchain.de
Phone: +49 69 154 008-790
Web: www.fs-blockchain.de
About the Frankfurt School Blockchain Center
The Frankfurt School Blockchain Center is a think tank and research center focused primarily on investigating the implications of blockchain technology. In addition to general research and prototype development, the FSBC serves as a networking hub for managers, start-ups, and experts to exchange knowledge and best practices. The FSBC also organizes educational opportunities for both students and executives, including on-campus courses, workshops, and conferences.
Privacy policy: By registering for this event, I agree to receive emails from the Frankfurt School Blockchain Center about courses and events in the areas of blockchain, DLT, and crypto assets.