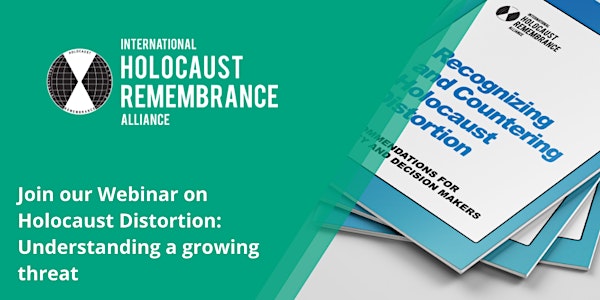 Holocaust Distortion - Understanding a Growing Threat
Join us for the launch and discussion of two new IHRA resources on Holocaust distortion.
About this event
On 8 November, the IHRA will present the twelve-minute explanatory film Holocaust Distortion: Understanding a Growing Threat and the publication Understanding Holocaust Distortion: Contexts, Backgrounds, and Examples.
These two new resources will further and contribute to the ongoing struggle against the increasingly dangerous phenomenon of Holocaust distortion.
Using examples from various countries, the twelve-minute film Holocaust Distortion – a growing threat explains how distortion and its various manifestations threaten Holocaust memory today. The publication Understanding Holocaust Distortion: Contexts, Influences and Examples provides further background to help better understand the historical and political contexts of incidents of Holocaust distortion.
The launch of these materials will be accompanied welcoming remarks by Dr Kathrin Meyer (IHRA General Secretary) and by a panel discussion. Key experts and policymakers including Dr Brigitte Bailer (Documentation Centre of Austrian Resistance/Austria), Ambassador Victor Micula (Head of the Romanian Delegation to the IHRA), and Dr Robert Williams (United States Holocaust Memorial Museum/USA), moderated by Julana Bredtmann (IHRA Program Officer), will discuss why Holocaust distortion is a problem, how we can recognize its manifestations, and how these resources can help to counter distortion.
To stay informed about future IHRA resources and events, such as an upcoming toolkit on hosting events focused on recognizing and countering Holocaust distortion, please opt-in for the newsletter during registration.