Dieses Event ist beendet.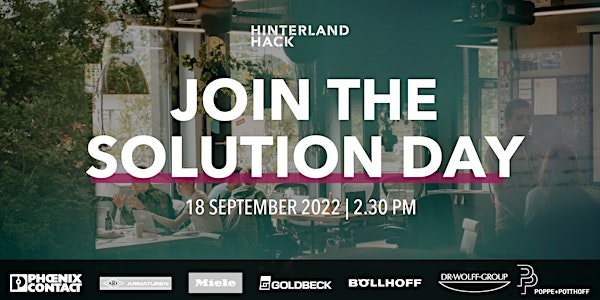 Hinterland Hack 2022 | Solution Day
Solution Day #HinterlandHack22
Zeit und Ort
Veranstaltungsort
Founders Foundation gGmbH Obernstraße 50 33602 Bielefeld Germany
Karte und Wegbeschreibung
Zu diesem Event
Be part at Hinterland Hack!
The 6th Hinterland Hack will take place from 16 to 18 September 2022. As a platform that initiates and orchestrates digital transformation in the German Mittelstand, we have developed the Hinterland Hack to solve existing and upcoming challenges in the Mittelstand. 60 tech talents will solve 7 real industry challenges to develop a solution in less than 48 hours. Pitch your idea in front of a renowned jury and have the chance win 5.000€ and wild card for the next batch of the Startup School by Founders Foundation.
Apply now for one of the limited spots in one of the teams: https://hinterlandofthings.com/hack/.
This year's Challenger are:
Miele | Poppe+Potthoff | Goldbeck | ARI Armaturen | Böllhoff | Dr. Kurt Wolff | Phoenix Contact
After 48 hours of pure hacking we celebrate 14 mindblowing at the Solution Day!
Hinterland talents will pitch their developed solutions in front of a fantastic jury and they need your support. Join us for Hinterland Hack Solution Day 2022 on 18 September 2022 and get your free ticket to see all pitches and celebrate entrepreneurship together. Let's support all talents after 48 hours of pure hacking!💻😼
Choose between the live experince at Founders Foundation or watch the livestream from anywhere in the world:
On Site @ Founders Foundation (Watch the Solution Day with us in the Founders Foundation and enjoy free food & drinks. Tickets are limited due to capacity.)
Livestream Pass (Watch the pitches from anywhere in the world and support the teams by watching our livestream.)
When? 18th September - 14.00 p.m.
How? Onsite at Founders Foundation gGmbH (Obernstraße 50, 33602 Bielefeld) or virtually via livestream.
Agenda:
14:00 p.m. - Doors Open
14:30 p.m. - Start Solution Day
14:45 p.m. - Pitches
16:45 p.m. - Award ceremony
17:00 p.m. - Networking
See you at #HinterlandHack22,
Your Hinterland Team
You have any further questions? Visit the FAQs on our Website (https://hinterlandofthings.com/faq/) or get in touch with Jasmin (jasmin@hinterland-of-things.de).