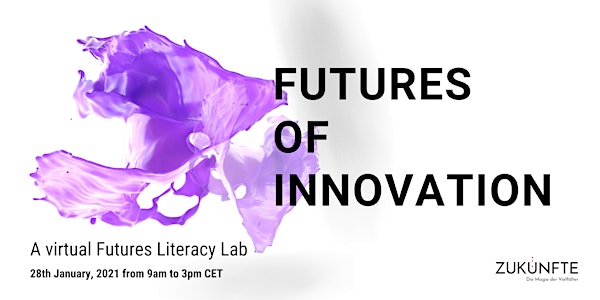 Futures of Innovation - A Virtual Futures Literacy Lab
Futures of Innovation - A Virtual Futures Literacy Lab
Refund Policy
Refunds up to 7 days before event
About this event
Innovation is a crucial topic for our societies and for the business sector in particular. It is the most important driver of economic growth and of societal wellbeing. Despite all the past improvements in the understanding of innovation, the Covid-19 pandemic showed the limits of our current innovation activities. In this unprecedented situation, many of us realized the crucial role of our capacity to imagine different futures, to allow emergence and to appreciate novelty.
We invite you to explore a new way to experiment with uncertain futures in a Futures Literacy Lab. You will dive deep into probable, preferred and alternative futures of innovation in the year 2030. And you will stretch your imagination and experience the magic of collective intelligence knowledge creation.
What to expect
Challenge your assumptions about the future and explore new paths to tackle the present.
Experience the power of variety in perspectives about the future and bring home concrete ideas for your own innovation processes.
Get familiar with the method of Futures Literacy Labs and explore ways to deploy them in your specific context.
Strengthen your own Futures Literacy: Better understand the many ways and reasons the future can be used in the present.
How it works
This virtual Futures Literacy Lab will be open for 4.5 hours net on Thursday, January 28th, 2021, starting at 9:00 am CET and – with breaks – close at 3:00 pm CET. Up to 25 participants will co-create futures of innovation in small groups and in the plenary. You will first explore your assumptions underlying probable and preferred futures. Then we invite you to experiment with an alternative future of innovation to stretch your imagination. In the end we will see which new questions and new actions emerge for the present.
We will collaborate in Zoom and in Miro – no prior knowledge is necessary. Seats are limited and allocated on a first-come basis. Registration is possible via Eventbrite and closes on January 21st. A fee of Euro 100 applies. You will automatically receive an invoice via Eventbrite. Contact us directly for other ways of signing up.
Your Lab Guides
Martina Oettl is a Collaboration Designer and Facilitator. She designs and facilitates collective engagements in which she accompanies large groups of people to solve complex problems, harness opportunities and design futures. She uses a variety of methods including the MG Taylor Methodology, Futures Literacy, Design Thinking und Theory U. Martina has studied Performance Art at the Academy of Fine Arts Vienna and Sydney and currently lives in France.
Dr. Stefan Bergheim is the director of the Center for Societal Progress in Frankfurt, Germany, where he strengthens knowledge about the complex conditions for wellbeing. He promotes dialogue and the exchange of knowledge at the interfaces of topics, disciplines and interests using a large number of methods. As a member of UNESCO's Futures Literacy network he designed and facilitated a large number of Labs, contributed to the book "Transforming the Future", and co-curated the 2019 FL-Forum as well as the 2020 FL-Summit.