Dieses Event ist beendet.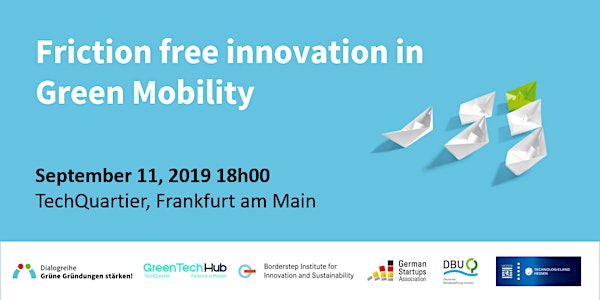 Friction free Innovation in Green Mobility
Dialogue Event: Grüne Gründungen stärken! Focus: Future Mobility
Zeit und Ort
Veranstaltungsort
TechQuartier Platz der Einheit 2 2. OG 60327 Frankfurt am Main Germany
Karte und Wegbeschreibung
Zu diesem Event
The transformation towards a green mobility of people and goods is only just beginning. Innovative startups with ideas of new modes of transport, business models and services are founded at a rapid pace, eager to enter the market. But how does one succeed in an industry with well established traditional market players, high initial capital investments and at times disabling regulations or policies? Not to mention a needed change in behavior of potential customers?
While the IAA is in town, we gather the mobility transformation's key stakeholders for an event at Frankfurt's largest startup hub. Besides an insightful keynote from one of Germany's leading innovators and investors in mobility startups, we give you the opportunity to talk face to face with public representatives, mobility startups, investors, and startup support organizations.
Take the chance and share how you want to move from A to B in the future. Ask what the biggest challenges for accomplishing this are. Deepen your understanding of how start-ups in the mobility sector have developed and what they, and you, need to do to transform to a green and modern mobility of people and goods.
Agenda
18:00 Registration
18:30 Welcome
18:40 Keynote: What is needed for friction free innovation in Green Mobility?
Dr. Christoph Deutskens, CEO of PEM Motion & Investment Director of 5P Capital
19:10 Moderated breakout sessions - discuss burning topics face to face with innovators, policy makers, startup support organisations, and investors.
20:00 Key findings in interactive closing panel
Moderated by Dr. Yasmin Olteanu, Borderstep Institut
Dr. Dirk Bessau, Head of Berlin Office & Business Development Manager, InnoEnergy
Dr. Christoph Deutskens, CEO of PEM Motion & Investment Director of 5P Capital
Johanna Reinhardt, Business Development Manager, Clevershuttle
20:30 Drinks and networking
About the dialogue series
Grüne Gründungen stärken! (Strengthening green start-ups) is a common initiative from Borderstep Institute, Bundesverband Deutsche Startups e.V. and Deutsche Bundesstiftung Umwelt (DBU). The aim is to create synergies between politics, business and the green start-up scene and trigger new initiatives to promote green startups. In 2019 and 2020, a total of 12 dialogue events will be held throughout Germany.
This 3rd event is organized in collaboration with the GreenTech Hub - a joint initiative by TechQuartier, Frankfurt's largest startup hub, and Finance in Motion, one of the world's leading impact asset managers. The aim of the GreenTech Hub is to accelerate green innovation by providing a collaborative platform for innovative actors in the green economy.
We are thankful for the support of Hessen Trade and Invest and Technologieland Hessen.