Dieses Event ist beendet.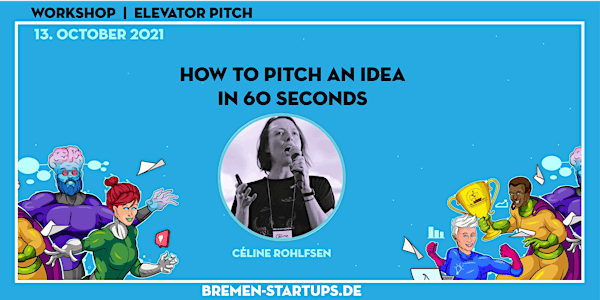 [free] WORKSHOP: how to Pitch an Idea in 60 seconds + Startup Weekend Q&A
[free] Elevator Pitch WORKSHOP
Zeit und Ort
Veranstaltungsort
Ankündigung folgt
Zu diesem Event
HOW CAN YOU GET PEOPLE EXCITED ABOUT YOUR IDEA IN JUST 60 SECONDS?
At the beginning of Startup Weekend Bremen (2021, Nov. 05.-07), every attendee has the possibiliy to pitch a startup idea - no slides and in 60 seconds.
This 60 sec. pitch format is called the Elevator Pitch.
This meetup is led by Céline Rohlfsen. She was in the winning teams of Startup Weekend Bremen WOMEN (May, 2019) & Startup Weekend Bremen SPACE (Nov, 2019) and is Co-Founder of Simply Impact. So she knows the magic sauce of elevator pitches very well - and can tell you about the Startup Weekend experience from an attendee view. To learn more about Céline, check out her profile on http://startupweekend-bremen.de
In this meetup, Céline will show you:
- what you should include in your elevator pitch (or what you should leave out)
- how to gain more stage confidence
- how to present authentically and thus emotionally engage your audience
- feedback on your pitch (if you already have a pitch and the number of people allows it)
AFTER THE ELEVATOR PITCH WORKSHOP, C´ÉLINE IS HAPPY TO ANSWER ANY OF YOUR QUESTIONS ABOUT STARTUP WEEKEND BREMEN.
Does that sound exciting? Then we'll see you in the online meetup 🙂
------
Who is the workshop for?
This workshop is for everyone who wants to upgrade their pitch level! Especially for those who are looking for a framework that they can adapt again and again. No matter for which (business) idea.
Feel free to bring the prepared version of your pitch, or have a few keywords at hand, so that you get the most out of it.
You don't have to join a meetup to participate at Startup Weekend Bremen (2021, Nov. 05.-07) or to run a successful Startup Weekend - this meetup is just optional.
You don't have to be registered at Startup Weekend Bremen (2021, Nov. 05.-07) to participate at this meetup - it's open for anyone who wants to learn how to pitch an idea in 60 seconds.