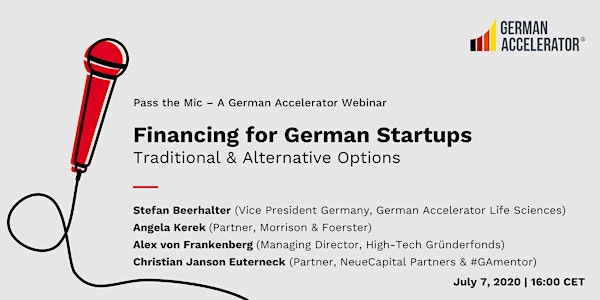 Financing for German Startups: Traditional & Alternative Options
Pass the Mic - Financing for German Startups: Traditional & Alternative Options - A German Accelerator Webinar
About this event
As many German startups across industries are faced with financial burdens caused by COVID-19, financial resources providing longer-term stability and immediate cash are becoming increasingly important. A June survey in Germany's IT sector has shown that 47% of those startups fear bankruptcy with a runway lasting only 3-4 months*. During this webinar, Alex von Frankenberg (High-Tech Gründerfonds), Angela Kerek (Morrison & Foerster), and Christian Janson Euterneck (NeueCapital Partners & #GAmentor)will address the current challenges startups face and provide an overview of public and private financial solutions in Germany. We will also explore the support mechanisms to help startups navigate the COVID-19 environment from an investment perspective.
*Source: VentureCapital Magazin
Stefan Beerhalter, Vice President Germany, German Accelerator Life Sciences
Angela Kerek, Partner, Morrison & Foerster
Alex von Frankenberg, Managing Director, High-Tech Gründerfonds
Christian Janson Euterneck (NeueCapital Partners & #GAmentor)
German Accelerator empowers German startups to scale globally.
We take high potential companies on a fast-paced learning journey in the world's leading innovation hubs at our locations in San Francisco, Silicon Valley, New York, Boston, and Singapore. German Accelerator provides mentoring from dedicated experts, access to our vast global network of business partners and investors, as well as free office space. Our programs are free of charge and highly customized to the participants' individual needs in order to help them enter international markets and succeed quickly. Since launching in 2012, German Accelerator has nurtured over 250 startups which have raised more than US$3 billion in funding so far. German Accelerator is run by German Entrepreneurship GmbH and is supported by the German Federal Ministry for Economic Affairs and Energy (BMWi).
Visit www.germanaccelerator.com for more information.