A Two-day International Online Conference about Esports Health and Wellbeing
About this event
The Esports Research Network (ERN) and the Institut des Sciences du Sport-Santé (I3SP) of the University of Paris are pleased to host their own first online international esports research conference.
For this first edition, the ERN has chosen the theme of « Esports Health & Well-being Management ». The multidisciplinary scientific event is dedicated to the international community of researchers, students, and industry professionals concerned by the physical, mental and social health issues of the esports sector.
The objective of the conference is to assemble and connect researchers, whose work provides empirical data on health issues in esports, and industry professionals, who are confronted in their activities with these issues on a daily basis, for two days.
Due to the current situation with the COVID-19 health crisis, we have decided to host the ERNC 2021 as an online event. All the communications will be broadcasted on Twitch and YouTube ERN's channels.
More than 70 speakers from all over the world will participate during these two days, along with many professionals from the sector (high-level players, physical and mental trainers or performance managers), on topics as varied as physical injuries, nutrition, parental environment or mental fatigue of players.
The entire program can be consulted on the event's website, the news of the congress can be followed on its Twitter account.
The presentations will take the form of 2 keynotes, 4 expert panels, 3 symposia (3) and 31 individual research presentations during 12 parallel thematic sessions.
Among the many speakers, we will be privileged to welcome:
Joanne Donoghue (Director of Clinical Research at the Center for esports research and medicine of the New York Institute of Technology),
Ismael Pedraza (PhD Candidate in Psychology at the German Sport University of Cologne and Performance coach at Rogue),
Lindsey "GamerDoc" Migliore (Wellness & Performance Consultant for Evil Geniuses),
Jake Lyon (Coach for the OWL Team Houston Outlaws),
Stephanie "missharvey" Harvey (Head of Development at CLG),
Anton "Foxy1" Mihailov (Chef at Rogue),
Martina Čubrić (Sports Psychologist at MAD Lions),
Mia Stellberg (Sports Psychologist a OG Esports),
Sébastien "Ceb" Debs (Back-to-back Dota 2 TI Winner),
Michael "Caps' Dad" Winther (G2 midlaner's father),
and many others...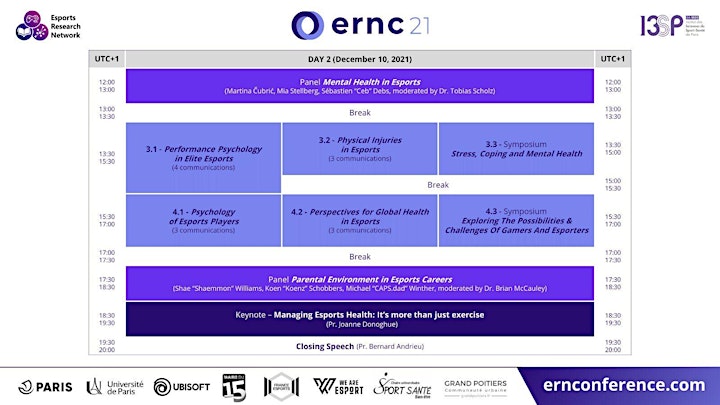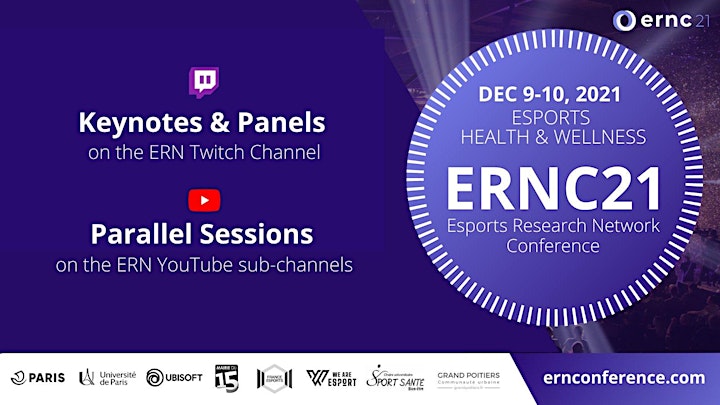 Organizer of Esports Research Network Conference (ERNC 21)
The ERN is a collaborative platform which connects more than 200 researchers from over 30 countries around the world and fosters interdisciplinary research on esports. The goals of the ERN are to gain rigorous insights into esports, foster the sustainable growth of esports, shape the role of esports in the society and translate this knowledge for the digitised world society is growing into.