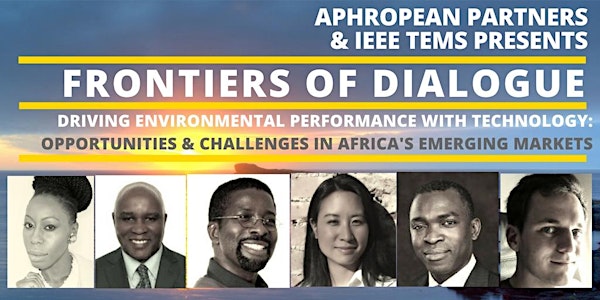 DRIVING ENVIRONMENTAL PERFORMANCE WITH TECHNOLOGY
When and where
Location
AFRO-ASIATISCHES INSTITUT (AAI) Grosser Saal, Ground Floor Türkenstrasse 3 Wien 1090
Description
Driving Environmental Performance with Technology:
Opportunities & Challenges in Africa's Emerging Markets
Aphropean Partners in collaboration with the IEEE Technology and Engineering Management Society invites you to join #FOD17 FRONTIERS OF DIALOGUE.
Technology plays a crucial role in managing environmental performance and achieving sustainable results in Africa's Emerging Markets. At this #FOD17 Frontiers of Dialogue, our panel will shed light on the opportunities and challenges associated with environmental technology for sustainable development.
We will close this inclusive discussion with an opportunity to network over drinks and canapés.
Our panel involves an exciting line-up of leaders of thought and practice from academia, civil society, public and private sector:
Moderator:
Rita Isiba, MBA, Aphropean Partners
Panelists:
His Excellency, Ambassador S.M. Gitonga,
Deputy Permanent Representative and Deputy Head of Mission
Embassy & Permanent Mission of the Republic of Kenya

Dipl.-Ing Festus Imarhiagbe,
Agricultural Scientist
AgrarMarkt Austria

Naomi Morishita, MSc, BSc,
Programme Officer
OeAD Housing Office GmbH

Jesse Ojobor MSc, BSc,
Industrial Resource Efficiency Expert
United Nations Industrial Development Organization (UNIDO)

Jonathan Schreiber,
Entrepreneur
PureSelfMade
What we will cover:
Key trends moving environmental technology forward in Africa's emerging markets

Challenges faced in improving environmental performance: lessons learned

Opportunities for cooperation and transfer of environmental technology
Program
18:00 - 18:30 Registration and refreshments
18:30 - 20:00 Panel Discussion + Q&A
20:00 - 22:00 Connect over drinks and canapés
Places are limited so to avoid disappointment register now.


6 reasons why you will benefit from #FOD17
#FOD17 event series exists to give you a motivating mix of inspiring content, great people, music, drinks and snacks. We charge a small fee to create a valuable experience for you.
Discover from leading experts in academia, private and public sector with international exposure;

Great opportunity to ask questions and share your opinion;

Get up to speed on key trends and issues affecting the way of business and work;

Develop your knowledge for new ideas and approaches in business or work;

Connect offline and meet professionals with international in spirit based in Austria;

Have a great time after working hours with a motivating mix of great people, music, drinks and snacks :-)


ABOUT #FOD17 FRONTIERS OF DIALOGUE
More and more companies in Europe are seeking collaborating African partners to help tap into opportunities in Africa, and its complex environmental and social value chain challenges.

Rita Isiba, founder of Aphropean Partners established #FOD17 Frontiers of Dialogue out of a desire for a continuous, accessible event for Austria's international community working towards profitable sustainability. Discover trends and current affairs impacting the future of business, technology, and sustainability in Africa.

The concept is pretty straightforward:
After work drinks and 90-minutes inclusive panel discussion or keynotes on key themes centred around the business, technology and current affairs on the first Thursday of every other month.
The goal is to bring together bright minds to actively exchange views from an international perspective on a range of subjects to inspire and provoke conversations that matter to business, work, and a sustainable world.
We place emphasis on promoting intercontinental leaders of thought and practice based within the DACH region (Germany, Austria, Switzerland).

Events are recorded and held in the English language.





FAQs
I do not have a PayPal account. What to do?
Registration fees can be paid at the door.
Where can I contact the organiser with any questions?
Please email the event team - event@aphropean.com
Is my ticket transferrable?
Yes. If you are unable to attend, please send at least 24 hours before the event and we will give you a credit to use for future events.
Do I have to bring my printed ticket to the event?
No, we will have your name on the list. So we know if you've booked or not.
What is the refund policy?
If you don't turn up to the event you will not receive a refund or be able to transfer your booking to another event.

How to reach the venue?
AFRO-ASIATISCHES INSTITUT (AAI) is located at Türkenstrasse 3, 1090 Vienna, Austria. The event will take place on the Ground Floor in Grossen Saal. Go through the Glass doors, and walk past the lifts on your right, towards the venue.
Closest U-Bahn station is Schottentor. You can plan your full journey with Wiener Linien.